Cyclone Fani stormed through the coastal region of India battering villages and towns in Odisha and Andhra Pradesh.
 Odisha bore the worst brunt with widespread damage across the state affecting 1.1 million people who were evacuated from their homes. The coastal districts of Puri, the temple city, Bhubaneswar , Cuttack and other coastal towns namely Khurda, Jajpur, Bhadrai and Balsore have been devastated and coastal areas are submerged under water in the pounding rains. Heavy winds uprooted the trees and blew off the roof tops. Telephone towers and electrical poles were uprooted, disrupting the communication networks. Several thousands of kutcha houses and temporary structures are completely destroyed. Although there has been limited loss of lives due to proactive steps taken by authorities, the state now stares at one of the most extensive reconstruction efforts as an estimated 10,000 villages and 52 towns in came in the path of Cyclone Fani.
HABITAT FOR HUMANITY INDIA'S DISASTER RESPONSE
Habitat for Humanity India has deputed its Rapid Response Team to conduct a rapid assessment of the damages and further plan for recovery and rebuilding of the lives of families affected by Cyclone Fani.
In the first phase of the response, Habitat India is planning to reach out to affected individuals and families with Humanitarian Aid Kits to 5000 families and Emergency Shelter Kits to 3000 families.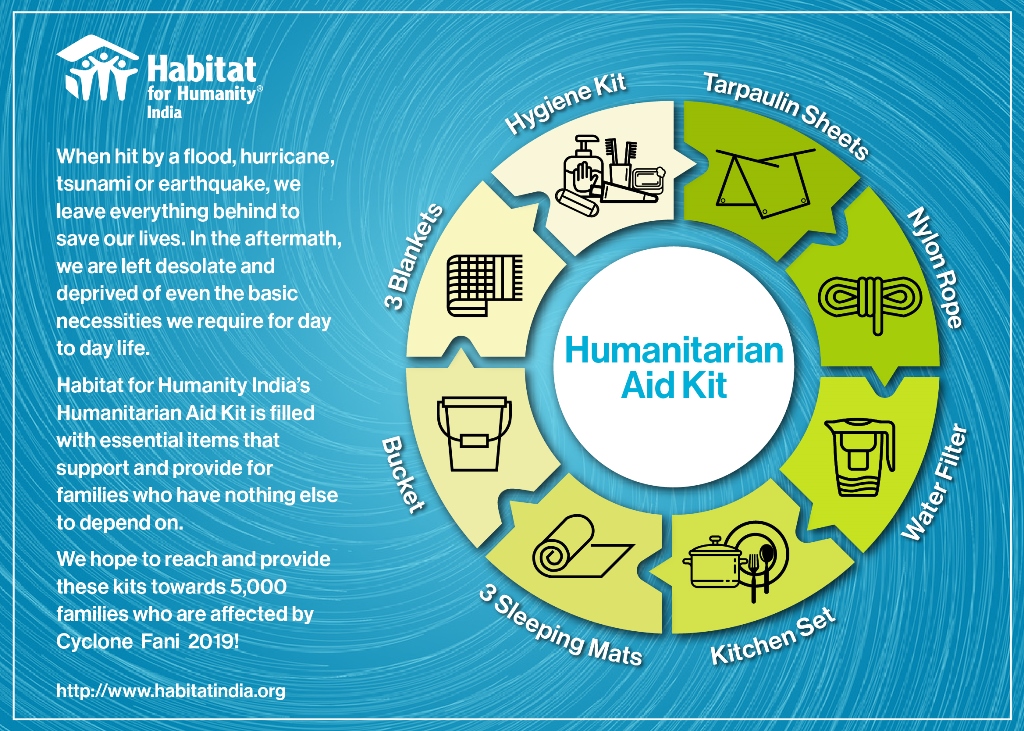 HOW CAN YOU HELP?
You can help the affected families by contributing towards Habitat India's Cyclone Relief Response.
 Humanitarian Aid Kits: INR 8,500/-
Shelter Kit

Tarpaulin Sheet

PP Rope 

Hand Tools  (Machete, Hand Saw, Claw Hammer, driller)

Plastic Mats 

Household Kit

1 Blanket and 2 Bedspread 

Water Filter (Gravity Based)

Kitchen Set

Mosquito Nets

Bucket 

Hygiene Kit 
Emergency Shelter Kits:- INR 11,500/-
JSW CGI sheets

Roofing Nails 3 inch

Tie Wire (binding wire GI)

Hand Saw

Claw Hammer

Plastic Bucket 

Bamboo

J bolt & washers 

Machete
Ketto
Our disaster response campaign is online on Ketto. You can click on the following link and donate towards our campaign:
https://www.ketto.org/fundraiser/cyclonefaniaid
You can also share the link with your network and help us in our quest to support the people of Odisha.
 Amazon
Like the Kerala floods, we are also tying up with Amazon again wherein Amazon customers can donate in kind. In next few days, Amazon customers can also donate in cash. We will keep you posted about our partnership with Amazon and how you can donate to Habitat via Amazon.
Habitat for Humanity India through its Disaster Risk Reduction and Response program has helped rebuild the lives of more than 4,08,146 disaster affected families in India by providing emergency shelter kits, repairing of damaged houses and reconstruction of new homes. In the Kerala floods that took place in August 2018, Habitat served over 1,30,000 families. In the aftermath of 2004 Tsunami, Habitat built disaster resilient homes for more than 13,000 families. 
To support Cyclone Fani Response, please contact:
James Samuel: [email protected] | 96048 31370
For CSR partnerships, please contact
Suprita Tambe: [email protected]  | 93230 00118