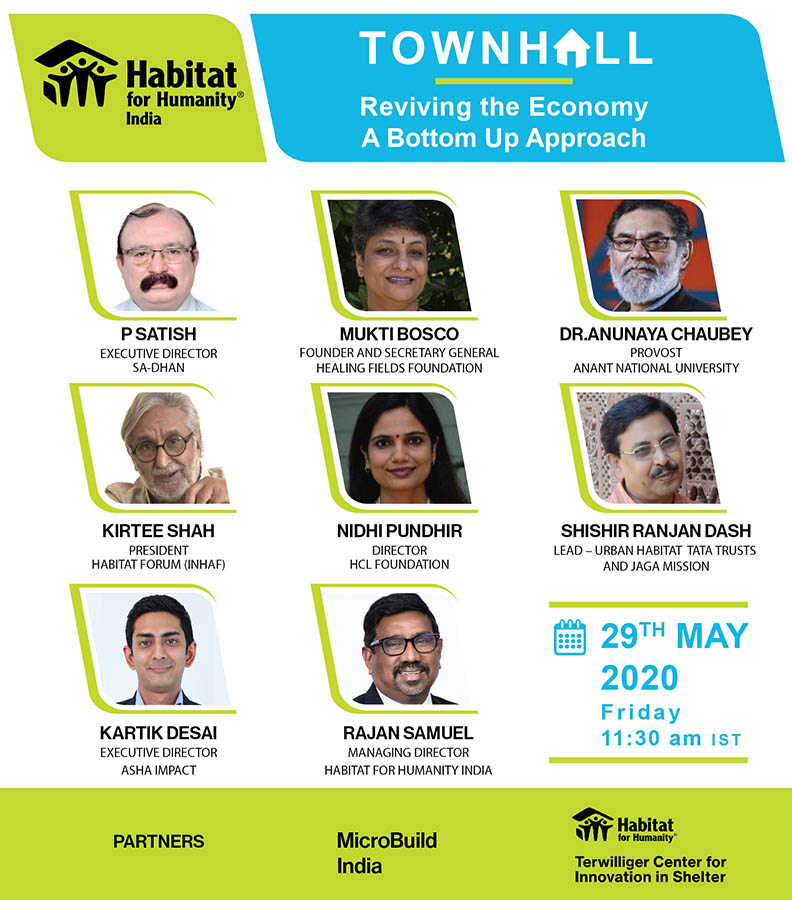 Townhall Moderators:
K.C. Ranjani, Consultant – Economic Development, Habitat for Humanity India
Lara Shankar Chandra, Consultant – Strategy, Habitat for Humanity India
For those who missed the webinar
About The Townhall:
COVID-19 pandemic has engulfed the entire world. Rapid spread and lack of vaccines has made it difficult to curtail the disease. Amidst the national lockdown, people who are affected the most are the daily wage earners or those living in vulnerable conditions who have no safety net to fall back on. Many of them are staring at starvation with rations running out. Though the Government is taking commendable measures to reach out to the vulnerable families, the need is immense. Hence every helping hand needs to be deployed to support these families in this time of crisis.
In the last 60 days after the national lockdown in India, Habitat for Humanity has served over 3,42,100 individuals by providing them with hygiene kits and family essential kits. We have reached out to the migrant workers, commercial sex workers, daily wage earners, people with disability, tribal and other vulnerable communities.
Objectives:
To raise awareness about Habitat for Humanity India's work in response to COVID-19 through its Pathways to Permanence strategy.
To position the role of market and financial institutions in reviving the economy with a bottom-up approach.
To provide solutions by ensuring last mile connectivity.
To create a continuum between sectors including Housing, Water and Sanitation, Skill and Livelihood, Women Empowerment and Community Development.
Panelists:
Pathways to Permanence: Road to Recovery: Rajan Samuel - Managing Director, Habitat for Humanity India.
Reviving Economy With A Focus On Bottom Of The Pyramid: Kartik Desai – Executive Director, Asha Impact.
Creating A Safety Net For Low Income Families: P. Satish - Executive Director, Sa-Dhan.
Preventive Health: Mukti Bosco - Founder and Secretary General at Healing Fields Foundation.
Land Ownership and Housing Solutions in Rural and Urban India: Kirtee Shah -  President, Habitat Forum (INHAF)
Public-Private-People's Partnerships for a Stronger Impact: Anunaya Choubey – Provost, Anant National University.
Government Initiatives To Protect The Informal Sector And The Marginalized Communities: Shishir Ranjan Dash, Lead – Urban Habitat Tata Trusts and Jaga Mission.
Role of CSR in Supporting Vulnerable Communities: Nidhi Pundhir, Director, HCL Foundation.