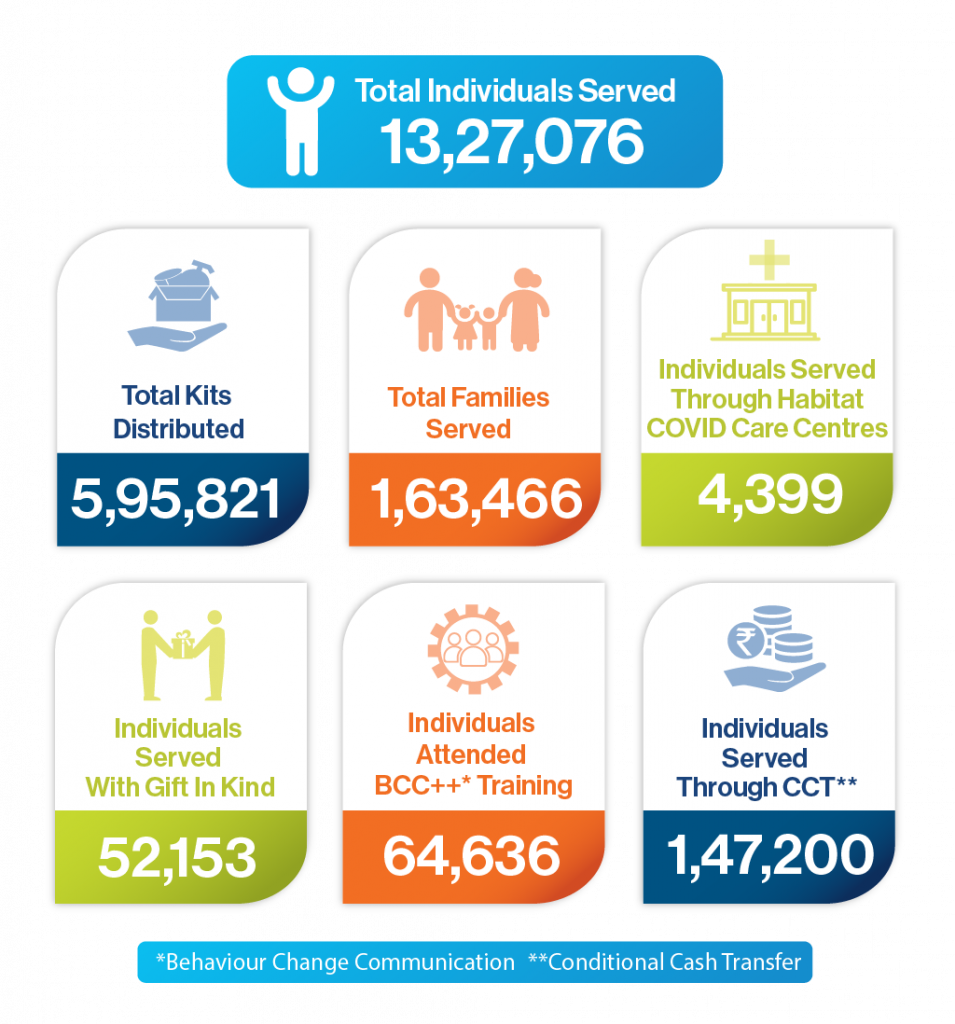 COVID-19 pandemic has engulfed the entire world. Rapid spread and lack of vaccines has made it difficult to curtail the disease. In India, the pandemic has triggered a nationwide lockdown since March 23rd, 2020.
Amidst the lockdown, people who are affected the most are the migrant workers, commercial sex workers, daily wage earners, people living with disability, adivasi and other vulnerable communities who have no safety net to fall back on. Though the Government is taking commendable measures to reach out to the vulnerable families, the need is immense. Hence every helping hand needs to be deployed to support these families in this time of crisis.
While housing is at the heart of everything we do, Habitat for Humanity India has been sensitising and raising awareness on the importance of hygiene and sanitation through our WASH (Water, Sanitation and Hygiene) program. As the country implements unprecedented measures amidst the global health emergency of COVID-19, we are supporting families and individuals by providing them with family essential kits and hygiene kits.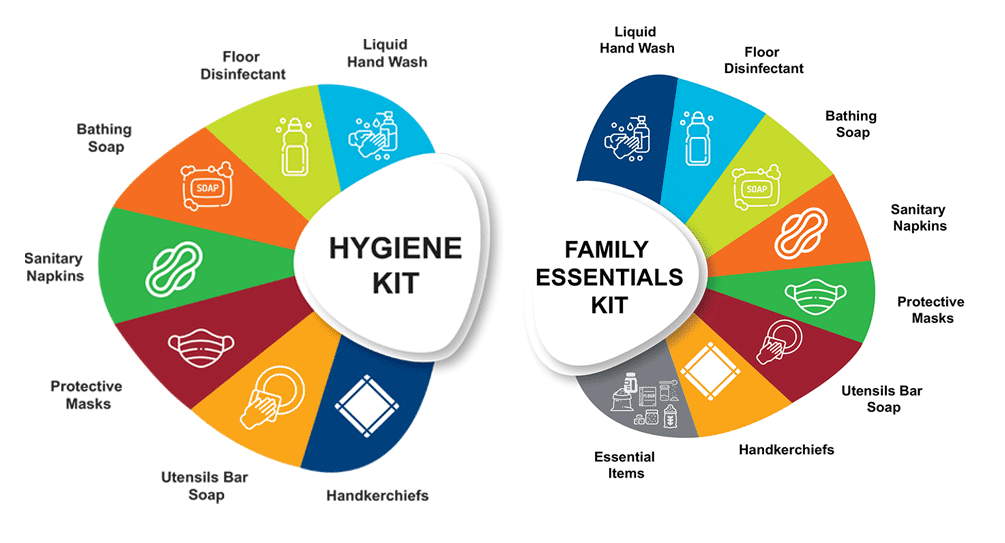 Through an abundance of caution, Habitat for Humanity India is not deploying our staff on ground but is mounting our response in partnership with state governments, local government administrations or government agencies.
Our Response Till Date
[caption id="attachment_6494" align="alignnone" width="1080"]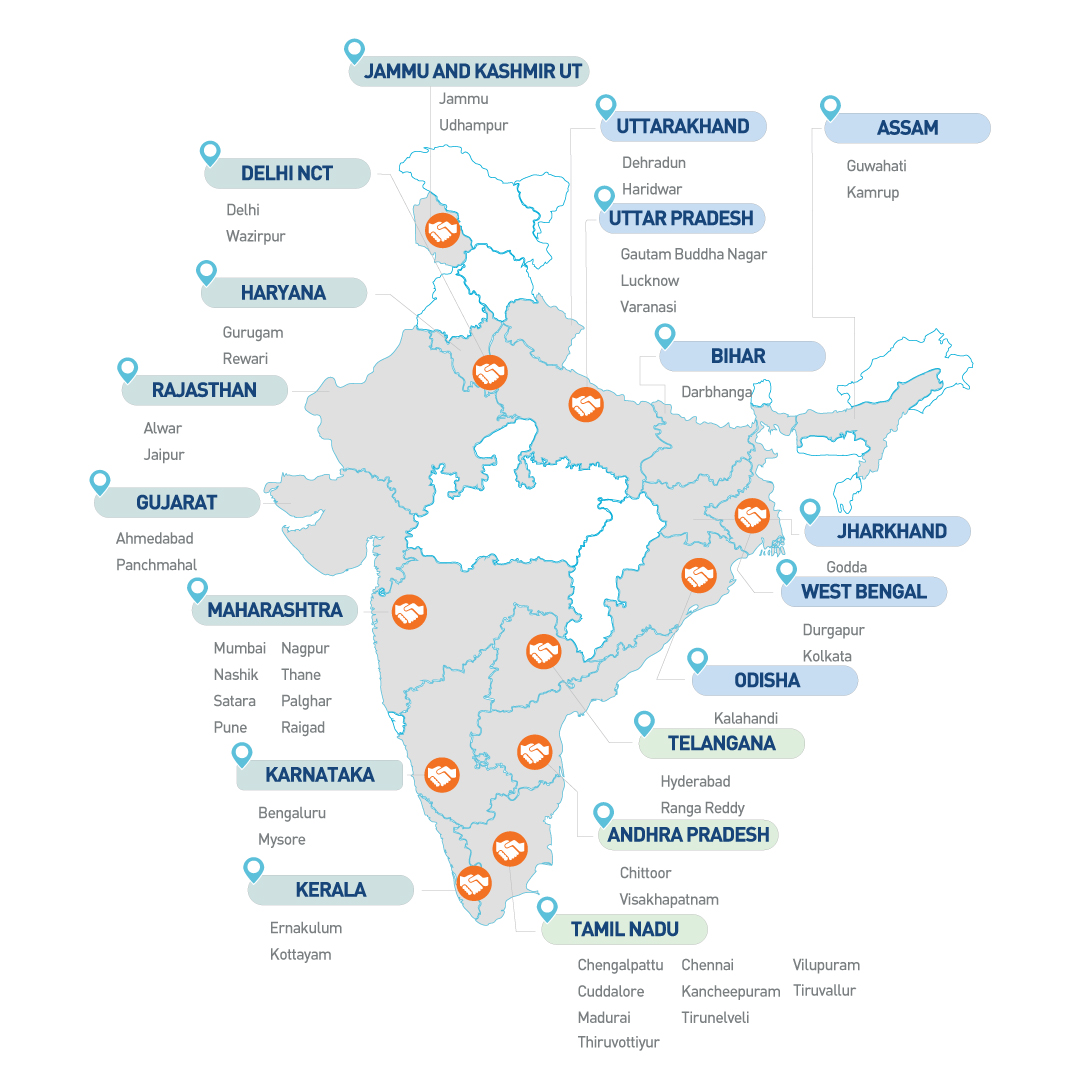 Your support will help us reach out to more families in need of hygiene and essential items and enable us create a safety net for vulnerable families across the country.[/caption]
The Need is Immense
Habitat for Humanity India is in partnership with the Government of Maharashtra. We are also working with 13 other administrations and government agencies at the grassroots level. We are seeking support from our supporters in the following opportunity areas:
State 
Location
Need
Target Community
Delhi
Shalimar Village and Haiderpur
4,000 Hygiene Kits  and Family Essential Kits
Daily wage laborers, slum dwellers
Wazirpur
10,000 Family Essential Kits
Daily wage laborers
Odisha
Puri
5,000 Hygiene Kits
Daily wage laborers
 Tamil Nadu
Chennai, Chengalpattu, Tiruchirappalli (Trichy), Cuddalore, Thiruvarur and Nagapattinam
50,000 Hygiene Kits and Family Essential Kits
Irula tribes, city urban slums, rural and city based labour communities
Telangana
Hyderabad
10,000 Hygiene Kits and  Family Essential Kits
City urban slums, rural and city based labour communities
Andhra Pradesh
Visakhapatnam and Guntur
10,000 Hygiene Kits and Family Essential Kits
City urban slums, rural and city based labour communities
Maharashtra
Mumbai City and Suburbs
25,000 Hygiene Kits and Family Essential Kits
City urban slums, and city based hospitals and clinics
Thane
Pune
5,000 Family Essential Kits
Waste pickers community
Nagpur
5,000 Family Essential Kits
Farmers widows and other distressed women
West Bengal
Kolkata and Taldi
20,000 Hygiene Kits and Family Essential Kits
City urban slums, rural and city-based hospitals and clinics
 Karnataka
Bengaluru
20,000 Hygiene Kits and Family Essential Kits
City urban, rural and city-based hospitals and clinics
 Rajasthan
Dholpur
5,000 Hygiene Kits
Daily wage laborers
Neemrana
1000 Family Essential Kits
Daily wage laborers
Tijara (Alwar)
1000 Hygiene Kits
Daily wage laborers
Each Family Essential Kit costs: INR 2500
Each Hygiene Kit costs: INR  1500
To support us through CSR, please get in touch with:
Suprita Tambe: [email protected]
Mohan D'souza: [email protected]