FROM THE MANAGING DIRECTOR'S DESK
Harnessing the Power and the Art of Giving

Dear Friends,
The India Philanthropy Report 2022 co-created by Bain and Company and Dasra captures a heartening trend of social sector funding in India, with a growth of 12% from INR 10 lakh Cr.(US$ 128,205 mn) to about INR 17.5 lakh Cr.(US$ 224358 mn.) over the past five years. CSR has grown at 15% annually in the past seven years and is expected to grow at 19% annually.
However, this does not gloss over the fact that the country is still short of NITI Aayog's estimation of the total annual funds needed for social causes - approximately 13% of the GDP - to achieve the UN SDG commitments by 2030. India's current spend is an average 7% of its GDP, as highlighted in the India Philanthropy report.
There are millions of families in India living in poor housing conditions, whose hardships have been exacerbated by the effect of COVID-19. In a post pandemic world, the importance of housing is paramount. The Government of India should make a provision for 'Housing' exclusively in Schedule 7 of the Companies Act.
According to the Charities Aid Foundation (CAF) World Giving Index 2021, India has bagged the 14th spot and is up from the 10-year global rank of 82 in the list of most generous countries.
These reports starkly highlight our capacity to mobilise resources and bridge the gaps needed to address India's social issues. It is imperative for us to reflect and rededicate ourselves while working at the grassroots. All of us started with a 'fire in the belly' to help people, with passion to resolve problems and eliminate the housing deficit in the country. Now might be a good time to check up on that fire and see if it needs rekindling if it isn't burning.
Last month, we had many productive meetings with Mr. Luis Noda, Area Vice President for Asia Pacific, Habitat for Humanity International; Ms. Belaynesh Tadesse, Director, Business Strategies, Finance and Administration, Habitat for Humanity International and our Board of Trustees. We also had the the opportunity to meet Mrs. Rajashree Birla, Aditya Birla Group to whom we presented Habitat India's Annual Report for FY21 titled Road to Recovery.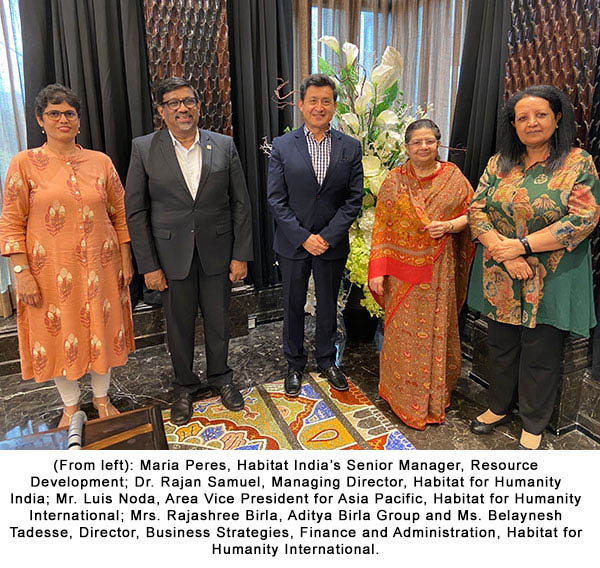 The support from our Board, Advisory Committee and global leadership has been unflinching. As we observe the International Charity Day on 5th September, a day that celebrates the life and work of Saint Mother Teresa of Calcutta, let us remain steadfast in our commitment to build strength, stability, self-reliance and shelter with families in the country through dedication and renewed vigour.
In partnership

Dr. Rajan Samuel
Managing Director
Habitat for Humanity India