Regional People-Public-Private Partnership Workshop in Thailand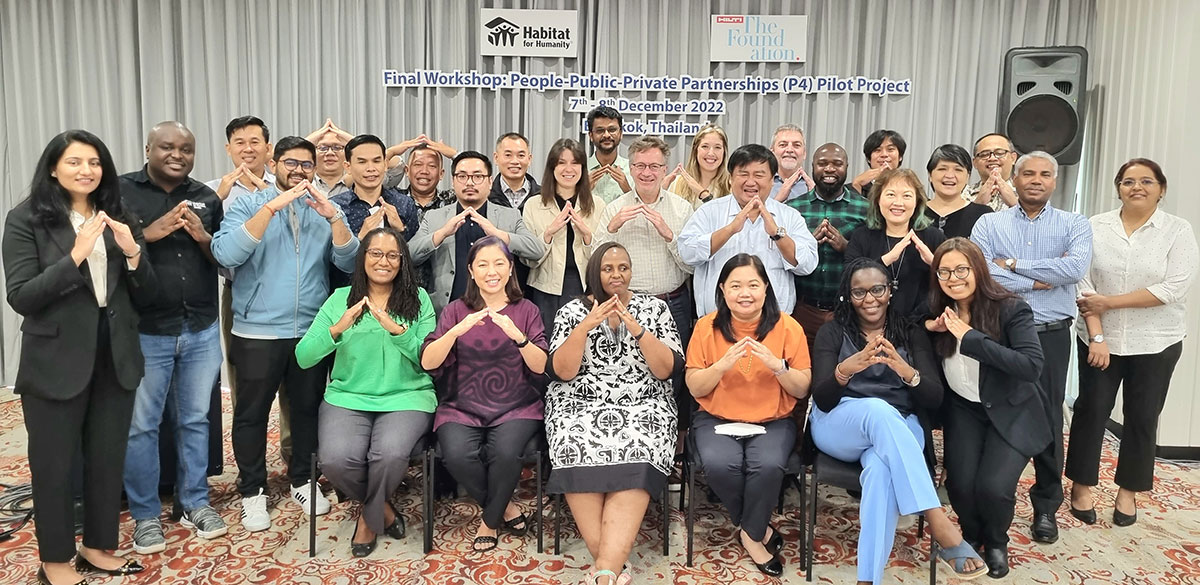 Habitat for Humanity International hosted the final People-Public-Private Partnership (P4) workshop from 6th-9th December 2022 at Bangkok, Thailand. Mr. Justin Jebakumar, Director - Government Relations and Mr. Saint Kamei, Manager - Communications represented Habitat India at the workshop. 10 ongoing P4 projects from the Asia Pacific, Europe, and Africa that received backstopping support from Habitat International presented the project outcomes at the workshop.
The backstopping support, provided by Hilti Foundation, is enabling Habitat National and Regional Offices to strengthen the P4 component and to embed collaborative approach in addressing the housing-ecosystem challenges in their respective countries. All projects were given an opportunity to present the progress, lessons learnt, and challenges faced. Habitat India, apart from its presentation also showcased the talking comic video tutorial developed as the capacity building and awareness generation tool for its P4 pilot project named Odisha Gruhabikas Program.
Habitat India's Odisha Gruhabikas Program (OGP) began in Puri district supporting the State Government's vision of creating a slum-free Odisha by transforming slums into liveable habitats. The project's Housing Support Services has expanded to Dhenkanal and Balangir now. A vital aspect of this project is to provide financial assistance in the form of gap-funding to the slum dwellers who are eligible to build their homes under Government of India's Pradhan Mantri Awas Yojana. The gap funding provided through Svatantra Micro Housing Finance Corporation Limited enables the families to complete their homes in a timely and efficient manner. Till date, 154 families have built homes through P4-Odisha Gruhabikas Program.

Launch of Green Habitats and Habitat Young Leaders Build

Climate change has far-reaching impacts on the people of the country. However, the millions of families Habitat partners with are often among the most vulnerable to the effects of climate change, which include increasingly common and severe weather events such as cyclones, floods and droughts. These events can result in tragic outcomes for families, including damage to or complete loss of their homes. We believe we have a responsibility to recognize that climate change has a disproportionate impact on the people we serve, and that to be accountable to them, we must address that impact through resilient housing.
Habitat for Humanity India launched its Green Habitats campaign to raise awareness of climate change and to urge youth to take urgent climate action for preserving a livable planet climate.

Engagement with Youth from IB Schools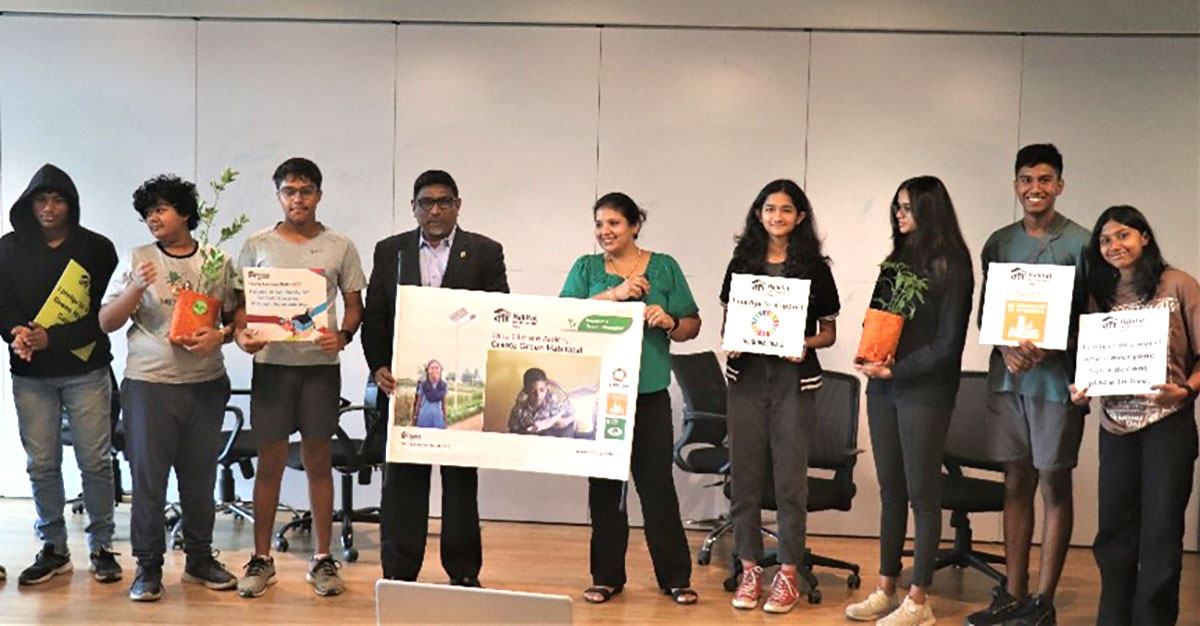 On 9th December 2022, Habitat for Humanity India launched Habitat Young Leaders Build (HYLB) along with Green Habitats Campaign in collaboration with leading schools across India. This campaign will encourage students to raise awareness about climate change and the urgent need to take climate action. The campaign was launched at The NEXT School, Mumbai by Dr. Rajan Samuel, Managing Director, Habitat for Humanity India. He was joined by Radhika Dharmarajan, Head of School and Suprieya Kutty, Creativity Action Service (CAS) Coordinator, The NEXT school.
The launch was followed by a fireside chat with Dr. Rajan Samuel. Additionally, 75 students from Ascend International School, Mumbai; MIT Vishwashanti Gurukul, Pune; JBCN International School, Oshiwara; Jayshree Periwal International School, Jaipur; and Strawberry Fields High School, Chandigarh participated in the Green Habitats campaign.

Livelihood Support for Women in Chhattisgarh, Maharashtra, and Odisha

Habitat India partnered with Standard Chartered Bank to provide 969 women with upskilling, alternative livelihood opportunities, and assistance in establishing micro-enterprises to generate additional income. The project is known as Empowering Women and Improving Life through Livelihood Interventions.  
These women are from the states of Chhattisgarh, Maharashtra and Odisha. The aim of this project is to equip the women with leadership and technical skills, engage them in income generation activities and empower them to achieve strength, stability and self-reliance they need to build a better life for their families.
This initiative was accomplished by forming and strengthening 85 self-help groups (SHG) across these three states, through which women were brought together, trained in business development, marketing, and government scheme comprehension. The SHGs were assisted in establishing their own businesses through seed funding, hand-holding, and multi-level technical training from Habitat's subject matter experts.
"We firmly believe that women are the torchbearers for new India's social, economic, and environmental development. Our changemakers initiative aims to empower women so that the female workforce can bring about a paradigm shift toward economic growth. It was a pleasure to collaborate with Habitat for Humanity India in this project to provide alternative and unique livelihood opportunities for these inspiring women," said Ms. Karuna Bhatia, Head of Sustainability, India, Standard Chartered Bank.

Assam Flood Response Appeal

In the aftermath of the devastating Assam floods, Habitat for Humanity India is distributing Humanitarian Aid Kits (HAKs) to disaster-affected families in Assam with support from local partners and district administrations.
Supported by Standard Chartered India, 1498 families in Biswanath and Darrang districts received support through Humanitarian Aid Kits with home essentials to support families to get back on their feet.
Hundreds of families are still in need of disaster-resilient housing. Habitat for Humanity places the families affected by natural disasters on a path to durable and sustainable shelter solutions in a phase-wise manner through its Pathways to Permanence disaster response strategy.
To donate, visit https://habitatindia.org/campaigns/assam-flood-response-appeal/
To support us through CSR, please get in touch with:
Suprita Tambe (Director – Resource Development Support): [email protected]
Mohan D'souza (Director – Resource Development): [email protected]



Groundbreaking for School Renovation Project in Haryana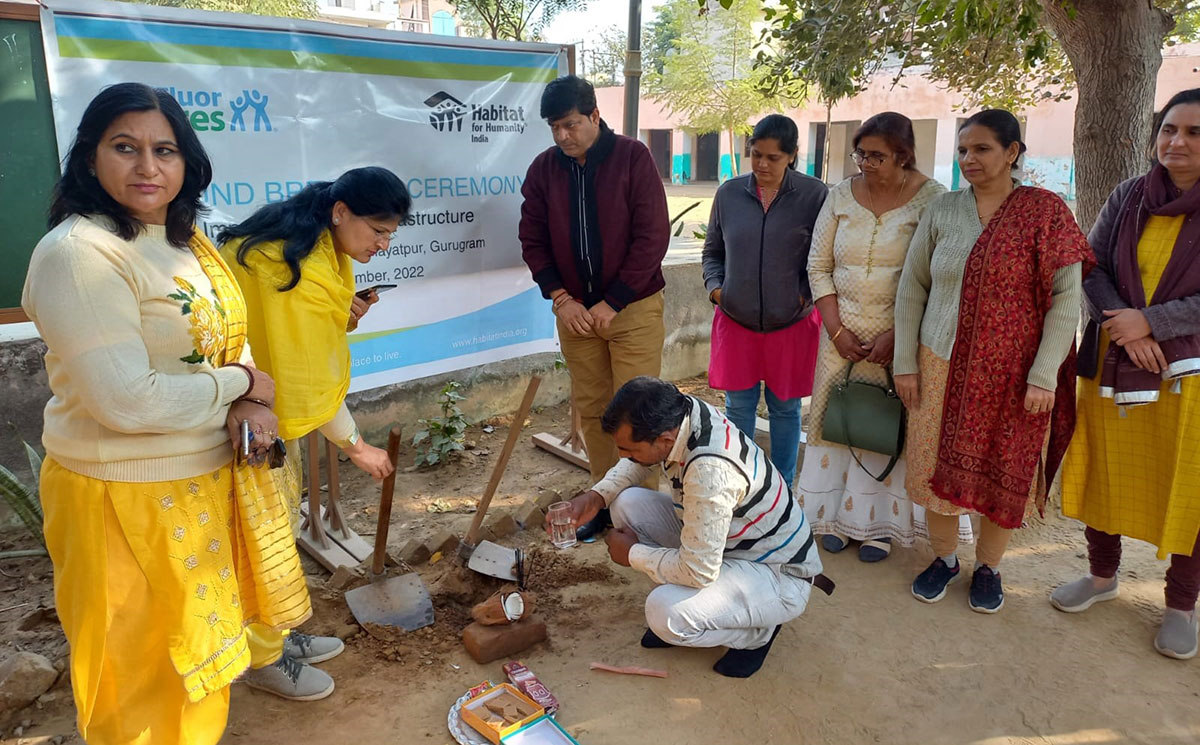 On 8th December 2022, a groundbreaking ceremony was held at the Hayatpur Government School, Gurgaon, Haryana for a school renovation project. In this project supported by Flour Daniel, Habitat India will install new steel staircase, interlocking tiles at assembly area, setup new school furniture, a drinking water station and an off-grid 4kw solar power system. The facility will support 514 students enrolled in the school. Mr. Sushila Kapoor, Principal and staff members were present at the groundbreaking ceremony.

WASH Training of Trainers in Delhi, Uttarakhand, and Uttar Pradesh

From November 2022 to December 2022, Habitat India conducted Training of Trainers (ToT) sessions in Lucknow, Varanasi, Greater Noida (Uttar Pradesh), Dehradun (Uttarakhand) and Delhi to train teachers to impart safe menstrual hygiene practices. Supported by DFM Foods, the partnership to induct teachers as trainers in Water, Sanitation and Hygiene (WASH) and Menstrual Hygiene Management will allow for a sustained and effective Behavior Change Communication among the students.
Through this project, 8335 students in 11 schools in 5 cities will learn about sanitation and hygiene through Behaviour Change Communication and will get access to Hygiene Kits through 101 trained teachers and cleaning staff.

P4 Strategy to Achieve 'Housing for All' Workshop in Odisha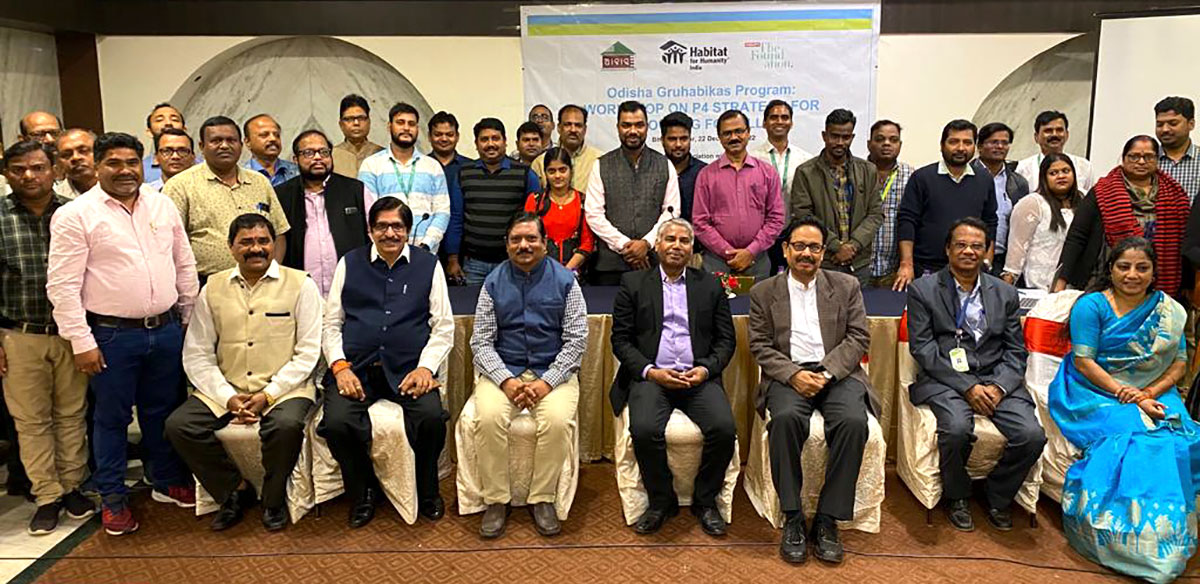 On 22nd December 2022, a total of 50 experts representing NGOs, corporate and Government departments attended the 'P4 Strategy to Achieve Housing for All' workshop in Bhubaneswar, Odisha. Supported by The Hilti Foundation and Odisha Urban Housing Mission, the event focused on the collaborative People-Public-Private Partnership (P4) of all key stakeholders in the public, Government and private sector to achieve the aim of Housing for All under Government of India's flagship housing program Pradhan Mantri Awas Yojana and to share key learnings from Odisha Gruhabikas Program – a P4 project facilitated by Habitat India using its unique housing support services model.
Mr. Debasish Singh, Mission Director, Odisha Urban Housing Mission-cum-Additional Secretary, Government of Odisha was the chief guest at the workshop. He was accompanied by with senior officials from the Odisha Liveable Habitat (JAGA) Mission.
"Government of Odisha's vision of creating a slum-free Odisha by transforming slums into liveable habitats is ambitious. We need to collaborate with housing experts such as Habitat for Humanity and housing finance institutions to scale up," said Mr. Singh in his opening address.
The workshop was organised with logistical support from CRS India.

4th Habitat Charity Golf Tournament

Habitat for Humanity India proudly presents the 4th edition of the Annual Charity Golf Tournament. Save The Date to play your favourite game and help vulnerable people affected by COVID-19 through shelter.
When you play golf with Habitat for Humanity India, everyone wins – each one of you and most importantly, the families we work with at the grassroots! The funds raised from the tournament will support vulnerable people affected by COVID-19 through shelter. Watch the impact of the past editions of Charity Golf Tournaments here.
Save The Date
Date: Saturday, 4th February 2023
Venue: Willingdon Sports Club, Mumbai