Sujata Parida, Odisha
After crossing a thick forest patch, a narrow motorable road leads to Bada Kurumatangar village. All the houses in the village are scattered and are surrounded by trees. The women of Shaktima Kalijai SHG welcome you with a smile. Sujata Parida is the founder of the SHG. She lives in a joint family of 8 members including her son Ashish and elder daughter Archita.
In 2017, 11 years after her marriage, Sujata lost her husband Abhimanyu - a driver by profession - in a fatal accident. Abhimanyu's tragic death shattered her dreams of a happy married life and of a complete family. Government's monthly widow pension of INR 500 was not enough to give a good education and living to her children.
Briefly aware of Mission Shakti, the apex body of an all women Self Help Group started by the Odisha Government in 2011, Sujata mustered the courage to form an SHG of 11 members. Habitat India trained the members of the self-help group and helped them set up an enterprise to make incense sticks (agarbattis). The women were provided with the machinery and trained extensively. They are now selling the incense sticks locally. In a month an SHG can produce upto 200 kgs of incense sticks. They are then packed in different sizes priced at INR 10 to INR 100. Each woman can earn upto INR 1500 through this enterprise.
"We did not get any skill or technical training from anywhere after forming our SHG. Thankfully Habitat for Humanity India approached us," says Sujata. "Now, we want to buy an automatic machine to upscale our production and provide more variety to customers. We are also thinking of starting mushroom farming", Sujata decodes her plan for the future.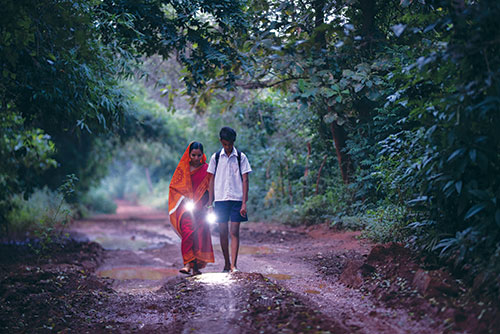 The presence of wild elephants is common in the forest adjoining her house. But that does not scare her. In the late evenings, she steps out with a torch to bring her son back from the school. It is this courage that has helped her fight many of life's battles. The success of the enterprise has given her the confidence and self-reliance she needs to build a better life for her family.
"I do not want to be dependent on my in-laws or feel helpless for the rest of my life. I want to give my children a good education and a better life," Sujata exerts with confidence.
Sujata's story is one of many from Habitat India's Empowering Women Through Livelihood Opportunities project which has given a new lease of life to 969 women in Chhattisgarh, Maharashtra and Odisha. The project is supported by Standard Chartered Bank under its Futuremakers Program. Phase two of this project is ongoing in Maharashtra and Odisha.