Improved Sanitation Facilities for Women's Division of Mumbai Police

On the occasion of International Women's Day celebrated on 8th March, Tata Capital in partnership with Habitat for Humanity India handed over improved sanitation facilities to Nagpada and Byculla Police Stations in Mumbai. Refurbished sanitation facility at the Nagpada police station includes two restrooms that will benefit around 40 women constables and 5 officers.

The restroom at Byculla police station will benefit around 50 women constables. With a view to enabling access to an improved sanitation infrastructure for the women in uniform, the new facilities will include separate toilet and bathroom, hand wash area, bunk beds for resting and storage space.

Shri. Sanjay Pandey, Commissioner of Police, Mumbai presided over the handover ceremony. They were joined by other eminent dignitaries Smt. Yamini Jadhav, Member of the Maharashtra Legislative Assembly; Shri. Amin Patel, Member of the Maharashtra Legislative Assembly; Shri. Vishwas Nangre Patil, Joint Commissioner of Police, Law and Order; Dr. Dnyaneshwar Chavan, Additional Commissioner of Police; Shri. Sarosh K. Amaria, Managing Director - Tata Capital Financial Services Ltd. and Dr. Rajan Samuel, Managing Director of Habitat for Humanity India.

"Mumbai Police are glad to collaborate with Tata Capital and Habitat for Humanity India in this initiative. Access to better toilet facilities will ensure greater dignity for women officers in the force and help create a better work environment for them," said Shri. Sanjay Pande, Commissioner of Police, Mumbai.

"Mumbai Police are the backbone of this city. Women police officers have always been at the frontline in upholding law and order especially during the pandemic to mitigate COVID-19 related risks. Given the tough conditions in which they work, we need to be sensitive to their sanitation requirements. By upgrading the toilet facilities for women police officers at Nagpada and Byculla police stations, we aim to resolve their sanitation problems and help improve their work environment," stated Dr. Rajan Samuel, Managing Director, Habitat for Humanity India.

Project Nirmanshree Certificate Distribution and Seed funding for 50 Social Enterprises

On March 8th 2022, women trainees, women entrepreneurs, women participants, staff, Government officials and stakeholders of Project Nirmanshree gathered together to celebrate International Women's Day. 

3255 women participants received certificates for successfully completing their training in Enterprise Development Program and Government Schemes. 3000 women entrepreneurs received tool kits and 50 women-led enterprises received seed funding to enable them to start and expand their journey towards social enterprises in the housing ecosystem.

Dr. Rajan Samuel, Managing Director, Habitat for Humanity India launched the Nirman App that will serve as a one-stop solution for all services offered by the project. The program was conducted in a hybrid manner with participants joining on-ground and virtually as well.

Second Hope Village Project Breaks Ground for Decent Homes and Better Sanitation

Habitat for Humanity India has partnered with LG Electronics (LG) and Community Chest of Korea to build five new homes for low-income families, and one new school sanitation unit that will benefit 101 students of the Zilla Parishad School, in Dehane village, Khed block in Pune district of Maharashtra. A hybrid ground-breaking ceremony was held connecting the villagers of Dehane with stakeholders from LG, Habitat Korea and Habitat India dialling in from Korea and other parts of India on 3rd March 2022.

Senior officials like Mr. Yonghee Kim, Person-in-Charge, CSR team, LG Electronics HQ (Korea); Mr. Atul Khanna, Vice President, LG India; Ms. Neeta Linz, Deputy General Manager – CSR and Public Relations, LG India; Mr. K. H. Lee, Managing Director, Habitat Korea; Mr. Yongchul Lee, Strategy and Finance Division, Executive Director, Habitat Korea and Dr. Rajan Samuel, Managing Director, Habitat India, joined the ceremony virtually.

The homes come fully equipped with solar lighting systems and contain one living room, a bedroom, a sanitation unit and a kitchen. The new school sanitation unit will benefit both boys and girls studying in the Zilla Parishad School, Dehane, helping to improve enrolment, especially of adolescent girls. Both of these initiatives are part of 'Life's Good - Hope Village,' a community development project under which 12 new homes and 25 individual household latrines were built in 2021.

ROAD TO RECOVERY 2.0: COVID-19 RESPONSE


Till date, we have served 3,66,995 people by providing them with Hygiene and Family Essential Kits and by setting up Habitat Care Centres under Road to Recovery 2.0. Under Road to Recovery 1.0, Habitat India served over 1.32 million people from March 2020 to March 2021.

The crisis is far from over. We request you to consider our urgent appeal and donate now to help Indians affected by the pandemic

You can contribute as an individual or through your company's CSR department. Write to Mr. Mohan D'Souza, Director - Resource Development on [email protected]

Click here to learn more about or contribute to our COVID-19 response.

Medical Equipment Support

Kerala

Somfy Foundation supported medical equipment was handed over to Government Hospital Thuravoor, Allapuzha district of Kerala. The equipment included oxygen concentrators, sanitizer fogging machine, pulse oximeters, PPE kits, and hygiene kits.

Delhi

Holy Family Hospital, Okhla, New Delhi received a lifesaving ventilator with full face masks and trolley on 10th March 2022. St. Stephen's Hospital, Tis Hazari, New Delhi received a Portable digital x-ray, ECHO Machine, Cardiac Monitor, face masks, and sanitisers on 29th March 2022. Implemented as a part of the Road to Recovery program to augment the capacities of medical institutions in the fight against COVID-19, this project is supported by Bank of America.

Karnataka

Amazon India supported medical equipment were handed over to General Hospital, Nelamangala, Bengaluru on 16th March. The equipment includes Multipara Cardiac Monitor, Pediatric Ventilator, BP Apparatus, COVID-19 Testing Set-up, PPE kits, kits for biochemical analysis and other vital functions.
School Sanitation and Hygiene Education

Maharashtra
Ground-breaking ceremonies for two new school sanitation units were conducted at Shetkari Shikshan Sanstha Primary School, Ghansoli, Navi Mumbai, Maharashtra on 4th March 2022 and St. Antony's Higher Secondary School at Velacherry, Chennai, Tamil Nadu on 8th March 2022.
In this pan-India 'School Sanitation and Hygiene Education' project supported by Bank of America, Habitat India will build improved sanitation facilities including gender-segregated washrooms, incinerators, and drinking water facility in 9 schools. Out of the 9 schools - 3 are government aided and 6 are government schools. Behaviour Change Communication training will be imparted to all 6,598 students enrolled in the 9 schools as a part of the project. These schools are located in Delhi NCR, Ahmedabad, Chennai, Hyderabad and Mumbai.

Rajasthan
On 4th March 2022, two We are Water (ROCA) supported School Sanitation Units were handed over in Dholpur, Rajasthan. A gender-segregated sanitation unit, an RO plant, and a water cooler set up was built in Government Higher Secondary School, Khurdiya. Another gender-segregated sanitation unit with an RO plant, a water cooler set-up, and a rainwater harvesting system has been handed over to Government Secondary School, Dhanera. Hygiene Kits were also distributed to both girls and boys to promote safe hygiene practices. These sanitation units include incinerators for girl students. Altogether, 600 students, mainly from the Scheduled Tribe Meena community, will benefit from the better sanitation facilities in their schools.
We are Water (ROCA) has supported the building of 4 School Sanitation Units, 50 Individual Household Latrines and 3 water reservoir preservation programs in Dholpur, Rajasthan in three phases to positively impact the lives of the marginalized Meena community.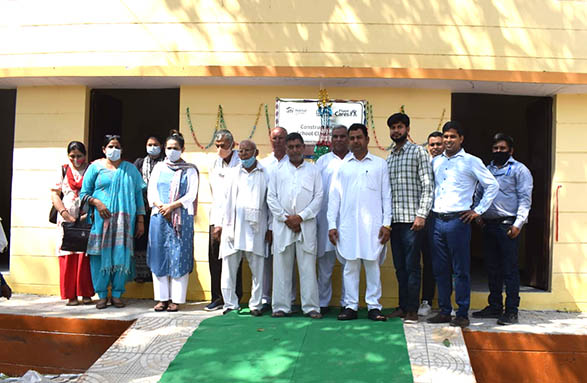 Haryana
With support from Fluor Daniel, Habitat India completed and handed over a school infrastructure improvement project in Gurugram, Haryana.
3 classrooms, a gender-segregated school sanitation unit along with an 11 kW solar power unit and an RO drinking water unit were handed over to the Government High School, Hayatpur on 16th March. RO drinking water unit, two solar power units, were set up in Sh. Lt. Atul Katariya Government Girls Senior Secondary School in Gurugram. Additionally, renovation work, parapet wall construction, barb wiring and staircase shed was also built in the school.
This project will benefit 1,115 students enrolled in the two institutions.