MUNDAR REDEVELOPMENT PROJECT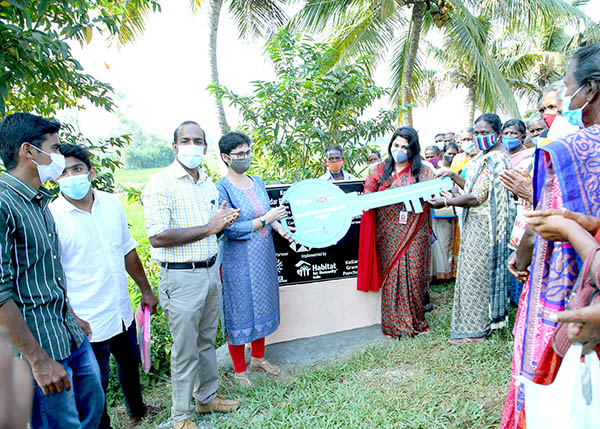 The Mundar Redevelopment Project initiated by Habitat for Humanity India in partnership with HSBC India and Swayam Shikshan Prayog has rebuilt the lives of flood-affected families through disaster resilient housing and allied interventions in the village.

The handover of the project was held on 27th December in the presence of dignitaries from Habitat India, HSBC India and Swayam Shikshan Prayog, with Ms. C.K. Asha, Member of Legislative Assembly – Vaikom Constituency serving as the Chief Guest on the occasion.

26 flood-affected families who now live in their new disaster resilient homes have already experienced the safety and security a home provides during the monsoon this year. 141 damaged homes have been repaired. All newly built homes are equipped with sanitation units. Redevelopment of the village also includes providing families access to solar energy through 286 household lighting systems, 120 water purifiers, installing 41 overhead water tanks and training 362 individuals in Community Based Disaster Risk Management, health and hygiene.
The emphasis has also been on rebuilding community infrastructure through the construction of an anganwadi centre, repairing the main road and community sanitation unit, the construction of 10 concrete foot overbridges as well as installation of 75 solar street lights and 2 RO water plants. Providing livelihood opportunities for the villagers especially for women is a unique aspect of this holistic project. Women leaders were identified and empowered to form 12 Self-Help Groups (SHGs) which now run successful micro-businesses such as catering, tailoring and grocery shops. Initiatives such as training in masonry, tailoring, summer crop farming, the distribution of chicks, quails, goats and cows to 223 families and the repair and construction of 30 cow sheds, have given a fillip to the village economy.

ASIA PACIFIC HOUSING FORUM 8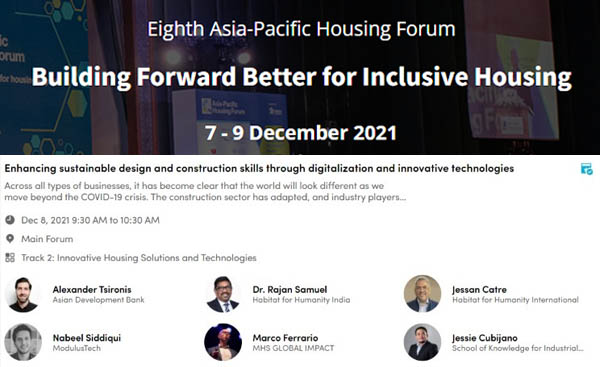 The 8th Asia-Pacific Housing Forum, with the theme 'Building Forward Better for Inclusive Housing' took place virtually from 7th- 9th December 2021. The forum highlighted the urgent need for affordable housing solutions.
Habitat India's Managing Director, Dr. Rajan Samuel and Lara Shankar Chandra, Director of Strategy, Partnerships, and Coalitions took part in the forum as panelists. Dr. Rajan Samuel was a panelist for the discussion on 'Enhancing Sustainable Design and Construction Skills through Digitalization and Innovative Technologies.' Lara Shankar Chandra was a panelist on two plenaries - 'Securing Land, Housing and Property Rights for All' and 'Improving Policies and Systems to Ensure Equitable Access to Inclusive and Resilient Housing in Informal Settlements.'

ROAD TO RECOVERY 2.0: COVID-19 RESPONSE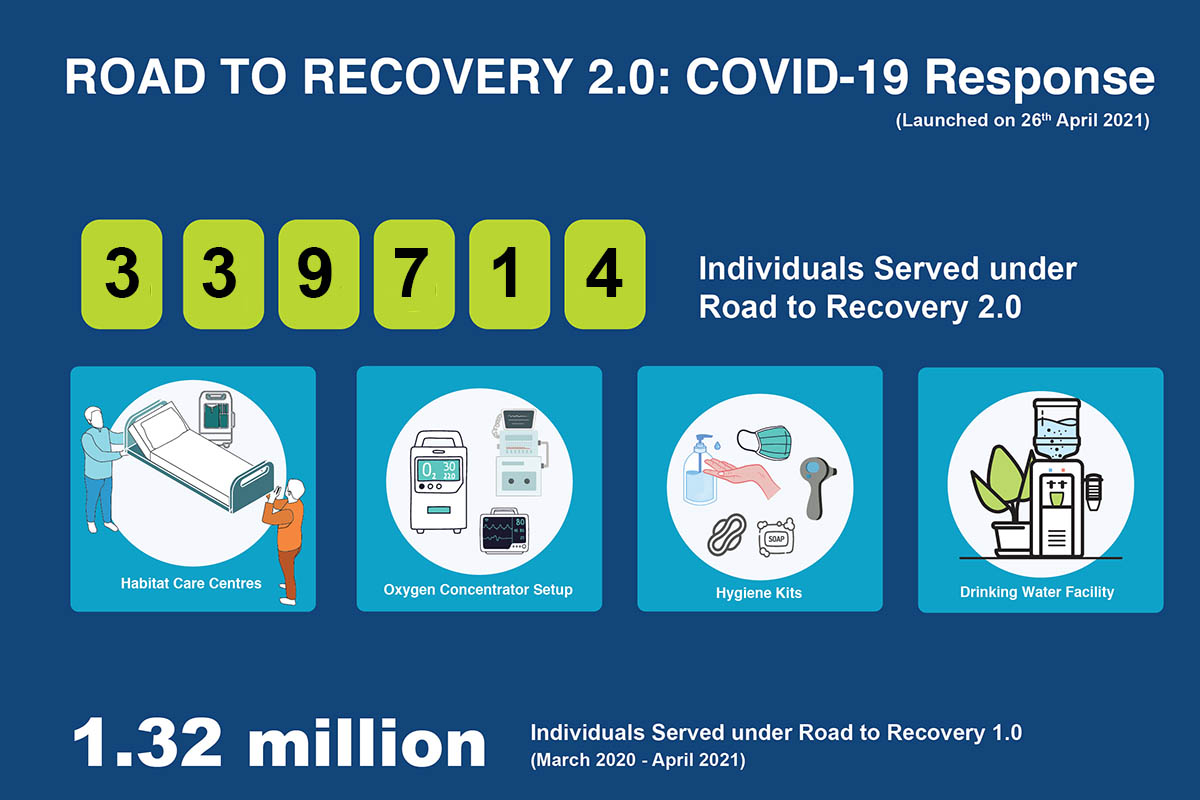 Till date, we have served 3,39,714 people by providing them with Hygiene and Family Essential Kits and by setting up Habitat Care Centres under Road to Recovery 2.0. Under Road to Recovery 1.0, Habitat India served over 1.32 million people from March 2020 to March 2021.

The crisis is far from over. We request you to consider our urgent appeal and donate now to help Indians affected by the pandemic.

You can contribute as an individual or through your company's CSR department. Write to Mr. Mohan D'Souza, Director - Resource Development on [email protected]
Click here to learn more about or contribute to our COVID-19 response.

DEDICATION CEREMONY OF ROAD TO RECOVERY 2.0 PROJECTS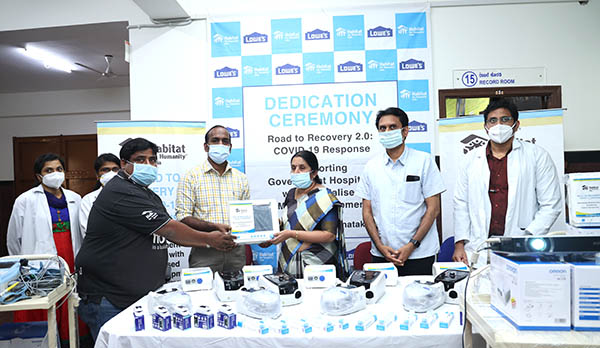 Providing Government Hospitals with Specialized Medical Equipment | Supported by Lowe's Companies, Inc.
20 government medical institutions comprising 18 hospitals and two COVID-19 Care Centres in Bengaluru received specialized medical equipment.

Supported by Lowe's, this initiative aims to augment the infrastructure of 20 medical institutions in Bengaluru, enabling them to provide essential medical care to the marginalized people and their families.

A dedication ceremony was organised on 17th December 2021 in Babu Jagajeevan Ram General Hospital, Bengaluru.

"At Lowe's we are committed to supporting our communities. Through this collaboration with Habitat for Humanity India, our aim is to provide swift relief measures in managing the COVID-19 pandemic, including medical assistance to government hospitals in Karnataka, in the most efficient way," said Mr. Ankur Mittal, Senior Vice President and Managing Director, Lowe's India.

Habitat India provided PPE kits, oxygen concentrators, ventilators, digital thermometers, pulse oximeters, N-95 masks and semi-fowler beds with mattresses, pillows, pillow covers, bedsheets and blankets to medical institutions. In phase two, onsite oxygen generators, nebulisers, ECG machines, ICU para monitors, portable x-ray machines have been provided to augment the capacity of these medical institutions at the forefront of the COVID-19 response.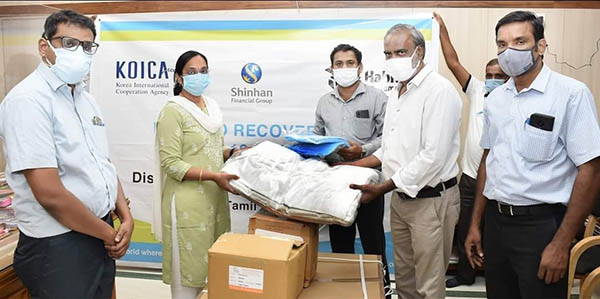 Habitat Care Centres in Tamil Nadu | Supported by KOICA and Shinhan Financial Group
With the aim of strengthening the existing healthcare infrastructure to combat the adverse impact of COVID-19, Habitat for Humanity India has partnered with Korea International Cooperation Agency (KOICA) and Shinhan Financial Group to provide hygiene kits, medical equipments and to set up COVID-19 care centre facilities in 3 government hospitals in Walajabad and Uthiramerur located in Kanchipuram district of Tamil Nadu.
Medical equipments and provisions for COVID-19 care centres - known as Habitat Care Centre - including 100 beds, 200 bedsheets, 200 blankets, 200 pillow covers, 1600 PPE kits, 400 Hygiene Kits and 2 X-Ray machine developer systems were handed over to the District Health Department, Government of Tamil Nadu for setting up the facilities in 3 government hospitals in Walajabad and Uthiramerur.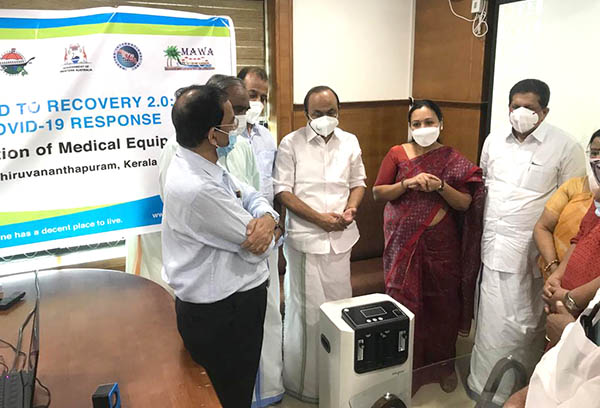 Distributing Medical Equipments to the Government of Kerala | Supported by Healing International
30 oxygen concentrators and 5 ventilators were handed over to Ms. Veena George, Minister for Health and Family Welfare, Government of Kerala, in the presence of Mr. V. D. Satheesan, Member of the Kerala Legislative Assembly, on 29th November 2021. This project was supported by Healing International, with support from the Government of Western Australia, Malayalee Association of Western Australia and World Malayalee Council.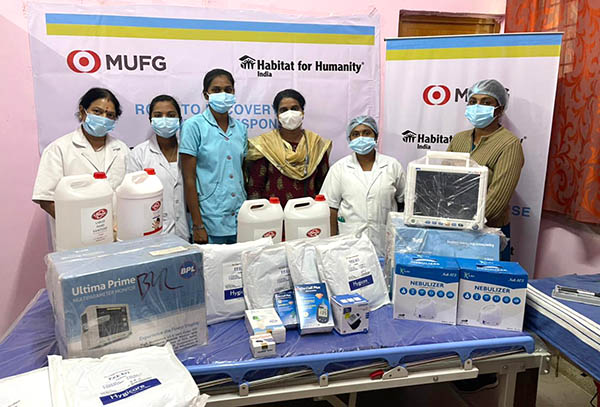 Distribution of Hygiene Kits and Specialised Medical Equipments | Supported by MUFG Bank

Support from MUFG Bank has enabled Habitat India to provide 5000 PPE kits, 500 hygiene kits, 51 oxygen cylinders, 25 ventilators, 50 thermal scanners, 50 glucometers, 50 nebulizer machines, 50 digital BP apparatus, 50 pulse oximeters, 20 biomedical waste bins and 10 ICU para monitors to 5 government hospitals in Delhi NCR, Jaipur (Rajasthan), Bengaluru (Karnataka), Sriperumbudur (Tamil Nadu) and Thane (Maharashtra). This project will positively impact the lives of over 2,750 individuals. The handover ceremony was held on 1st December 2021.


HANDOVER OF ANGANWADIS IN ASSAM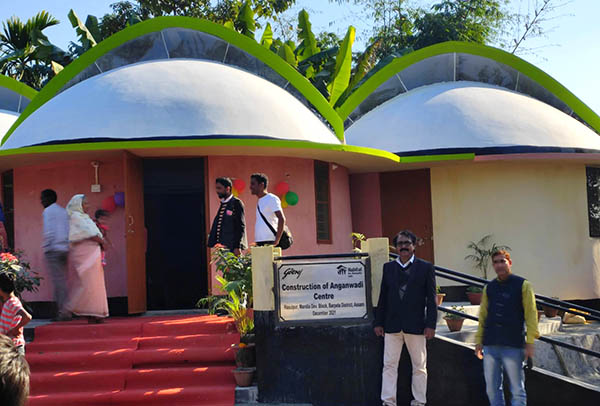 The Assam floods of 2018 caused widespread damage to the state's infrastructure. In Barpeta district, two anganwadis (daycare centres) in Rasulpur and Srirampur, were severely damaged during the floods.

Habitat India, with the support of Godrej, rebuilt the Rasulpur anganwadi using bamboo crete technology where bamboo is used as a major component for the structure, along with steel bars and concrete. The new anganwadi is aerodynamically designed, can withstand high-velocity winds, with a raised plinth that prevents water stagnation and makes the structure disaster-resilient in times of floods. The structure is also monolithically cast which helps during earthquakes.

The Srirampur anganwadi was also repaired, and both centres were handed over on 21st December 2021, with Mr. M.H. Khan, President of Jania Press Club, Assam and Mr. Ayub Ali Khan, Chairman, Rasulpur Council, Assam who attended the dedication ceremony. Both anganwadis will serve approximately 55-60 children each in the surrounding neighbourhoods.