When you play golf with Habitat for Humanity India, everyone wins – the golfers and most importantly the families we work with at the grass-root level!
The 4th Edition of Habitat for Humanity India's Charity Golf Tournament is back!
After an overwhelming response to the first three editions, the Habitat for Humanity Charity Golf Tournament 2023 will be held once again at the legendary Willingdon Sports Club, Mumbai on Saturday, 4 February 2023.
Save the date and stay tuned for more information soon!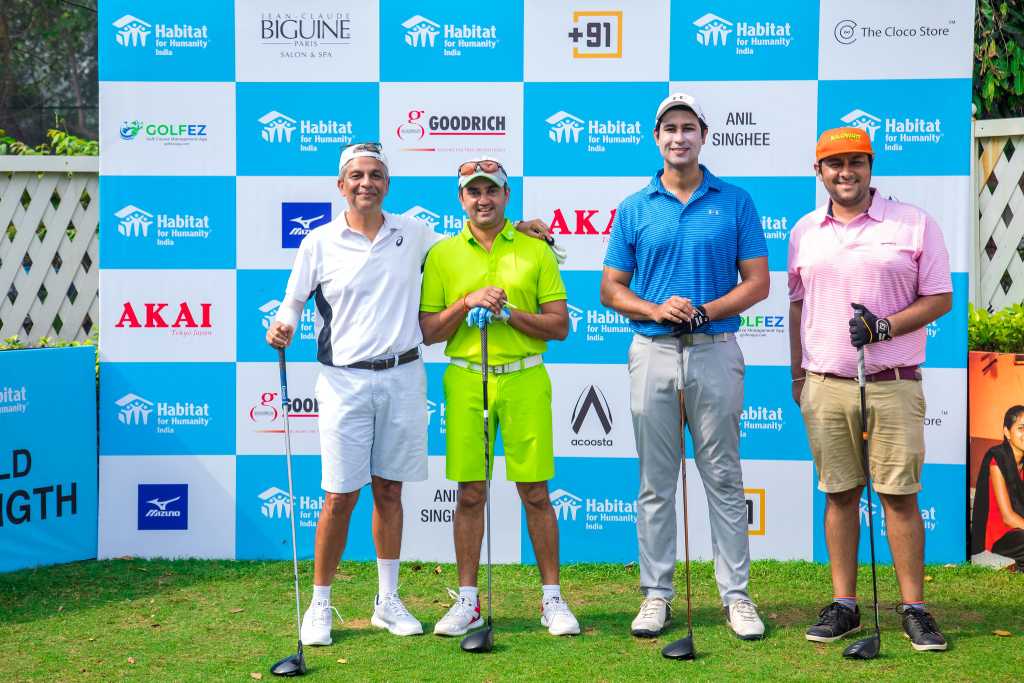 Habitat India's Charity Golf Tournament (Edition III)
Organized adhering to strict COVID-19 health advisories and protocols to ensure safety of the players, the third edition of our Charity Golf Tournament witnessed participation from 118 golfers.
Top corporate honchos such as Sudhir Jain (Managing Director – Bank of America); Kaushik Shaparia (CEO – Deutsche Bank); John Wilcox (CEO – Navnit Group); Tarun Rai, CEO - Wunderman Thompson (JWT); Sampath Kumar (Group Head, HDFC Bank); Jaggy Shivdasani (CEO, Airtravel); Satish Sethi(MD, Sethi & Sethi Comfort Prods Pvt Ltd); Dr. Perola Menon and other prominent personalities from India's leading businesses also participated in the tournament to express solidarity with the cause. Professional golfer Kunal Bhasin and young golfers Ananya Datar, Arhaan Nath and Aryaan Nath also played the tournament.
The funds raised through the tournament were used for building homes for families of martyred soldiers and setting up COVID-19 Care Centers in Maharashtra. Watch Archana Birange's story here. 
To see the entire album of the event photos please click here
Watch the highlights of the 3rd Edition of Habitat's Charity Golf Tournament in January 2021 below.
Don't miss the highlights from the 2nd Edition of Habitat's Charity Golf Tournament in December 2019 - watch it here!
Catch a glimpse of our inaugural Charity Golf Tournament in January 2019 below.
Read more about Habitat India and our first year in the world of golf below!
Asian Tour And Habitat For Humanity Partner In Support Of Families In Need Of Decent Housing
Habitat for Humanity Pro-Am at the Take Solutions Masters
Habitat for Humanity Pro-Am at the Panasonic Open
Asian Tour Golf Stars Build with Habitat for Humanity India
On 12th March 2018 Asian Tour champions Shiv Kapur, Chiragh Kumar along with their wives partnered with Habitat for Humanity India to assist Munna Devi to build a home for her family in Begumpur, New Delhi. They were joined by 2015 Asian Development Tour (ADT) Order of Merit winner and Habitat for Humanity advocate Casey O'Toole of the United States.
Munna Devi is a mother of two daughters and one son. Widowed six years ago, Munna Devi is determined to give her children a better future. "We were touched by the support of our New Delhi and international visitors who helped build our home. We are eager to complete our new home and cannot wait to move in," said Munna Devi with a smile on her face.