Launched in 2012, the Habitat for Humanity Young Leaders Build is Habitat's largest youth movement in the Asia-Pacific region. The annual campaign brings together youth from across the region to support families in need of decent housing. Young people volunteer, fundraise and speak out for the need for decent homes as a way out of poverty and toward self-sustainability. The campaign motivates the youth to take the lead in building homes, raise awareness online through their social networks, and advocate for sustainable cities and communities.
The youth engagement campaign is launched on December 5 to mark International Volunteer Day. The culmination day typically is in April when hundreds of thousands of young people will take part in simultaneous house builds and other mass participation activities across Asia-Pacific, or will go online in support of the campaign.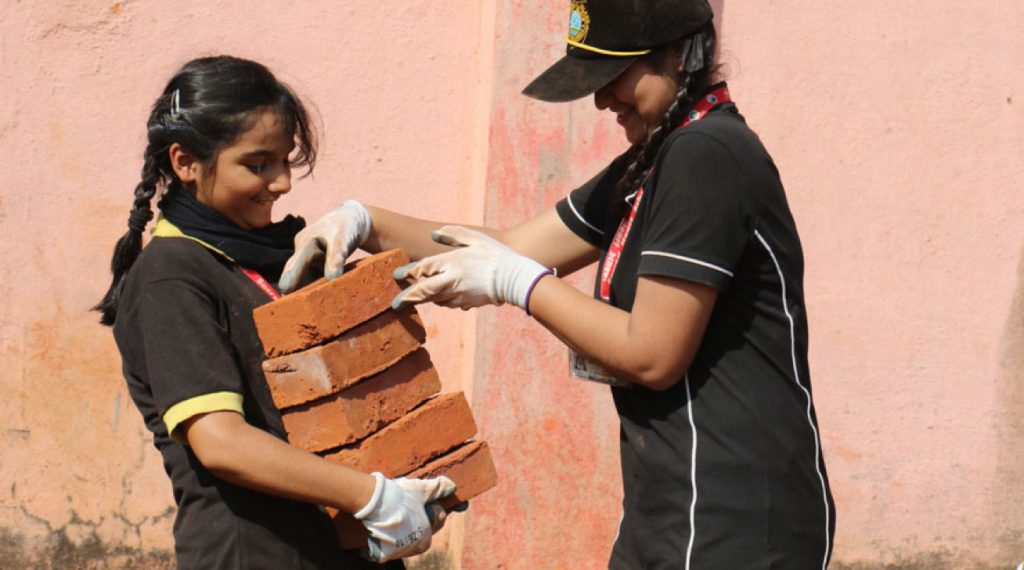 Awareness and fundraising activities for the four-month campaign takes place in 17 countries and one Special Administrative Region: Australia, Bangladesh, Cambodia, China, Fiji, Hong Kong, India, Indonesia, Japan, Myanmar, Nepal, New Zealand, Philippines, Singapore, South Korea, Sri Lanka, Thailand and Vietnam.
The 2018 Habitat Young Leaders Build peaked on April 21, 2018. The campaign helped 3,264 families to have decent homes, mobilized 4.3 million HYLB supporters across the region, raised over $1.8 million, and garnered 83.3 million opportunities to be seen in various media platforms. Under the campaign, 12 projects proposed by young people or youth organizations were also awarded the HYLB advocacy grants.
Habitat Young Leaders Build Leadership Academy
A new initiative unveiled under the Habitat Young Leaders Build campaign is the Leadership Academy program conducted in partnership with the Center for Creative Leadership. Youth participants attend a two-day leadership training program using eight early leadership modules of CCL and two sustainable communities modules that introduce the United Nations' Sustainable Development Goals, particularly goal 11 on sustainable cities and communities. Participants are guided to identify a community, create a community vision tree, identify outline community issues and implement a project that will address the issues. It empowers the youth to contribute to community development supporting Habitat's work. This program provides youth, especially the less privileged living in Habitat communities, with opportunities to gain leadership skills while nurturing future socially conscious leaders for Habitat, the society, and the business world.
Since the Academy was launched in October 2017, hundreds of youth in five countries have been trained as trainers and facilitators of a two-day leadership program. To date, 874 individuals have been trained through the sessions conducted in Singapore, Indonesia, Nepal, India, and the Philippines. Of the trained individuals, 745 youth attended the pilot training and two-day leadership teach-back sessions and 129 went through the four-day Train the Trainers program.
For the development of a HYLB Leadership Academy in India, a National India Youth Council Advisory Committee has been established to foster a long-term partnership/collaboration with youth organizations who that will not only support the HYLB campaign but also run the leadership training program and empower youth to implement development programs. The council will be established in four strategic regional locations covering the north, south, east and west of India.
Equip, Empower, Engage
Habitat Young Leaders Build Leadership Academy Goes To Jharkhand
Habitat Young Leaders Build Leadership Academy (HYLB-LA) flagged off with high spirits in Bokaro, Steel City, Jharkhand on 20th and 21st September 2018. This training was first of its kind, marking the beginning of Habitat for Humanity India's partnership with World Vision India. 44 participants participated in this two day intensive training.
HYLB-LA in partnership with World Vision aims at building a movement through regional and national networks, not only in taking action, but also in developing new leaders and supporting the government to build a sustainable world.
The training-workshop began with an ice-breaker and included key topics including sustainable communities, creating gender equality, leadership 101 and working in teams. Groups also developed their own action plans and demonstrated how they would build a sustainable community of their dreams!
HYLB Leadership Academy Training In Schools
The first ever HYLB-LA training in schools took place in March 2019 in Bengaluru.
Students from The International School of Bangalore, Neev Academy, Greenwood High International School and Mitra Academy participated in these leadership modules, designed to equip and empower the youth of India to lead themselves, others and change within their communities.
This first session of HYLB Leadership Academy closed with 16 students volunteering to run on our behalf in the TCS World10K Marathon in Bengaluru this coming May 2019!
Believing in the capabilities and role of the youth in building sustainable communities, Habitat for Humanity created Habitat Young Leaders Build (HYLB) Leadership Academy in partnership with the Center for Creative Leadership (CCL). Together, we have developed a toolkit that will train and unlock the potential of young leaders in India, empowering them to become agents of positive social change and citizen leaders in their communities. The toolkit has eight leadership modules and two sustainable communities modules that train the youth how to lead themselves, lead with others and change their communities.