Contents
1. Message from Mr. Rajan Samuel, Managing Director, Habitat for Humanity India
For two consecutive years, the State of Kerala suffered through major floods and landslides displacing and disrupting the lives and livelihoods of thousands of families in the State. Caught in this are families who live in poor housing conditions, making them vulnerable to the extreme weather conditions faced by the country with increasing regularity.
Since we hit the ground on 20th August 2018 in response to the humanitarian crisis arising out of the unprecedented floods, we have been implementing our Pathways to Permanence strategy that charts out resilient pathways for families to recover and build back from the disaster.
Housing Support is one of the initiatives. We are grateful to have the Center for Disaster Philanthropy as a partner in this endeavor. Through their support, 3000 families will receive access to technical services, financial education ensuring optimum utilization of the funds and grants under the Housing Support Services.
I am confident that this project will leave a lasting legacy and enable the families to achieve the strength, stability, and self-reliance they need to build a better future for themselves.
In Partnership,
Rajan Samuel
Managing Director,
Habitat for Humanity India
2. CDP - HOUSING SUPPORT SERVICE
Intending to assist 3000 families (15000 individuals) in Paravur Taluk, through value added, appropriate and affordable Housing solutions, Habitat for Humanity India with the support of Center for Disaster philanthropy has implemented Housing Support Services in the area. The Housing Support Services in Kerala is in the reconstruction phase of Kerala Floods Disaster response of HFH India to assist families to repair, retrofit or reconstruct a safe and durable house.
The Housing Support Services plays a key role in empowering the families / communities to get Technical services, financial education, and optimum utilization of the funds available. HFH India Housing Support Services are a value added service to the families and the technical people (Masons) on land use planning, site selection, hazard specific disaster resilient house design and plan development, estimation, advising on cost effective durable materials, cultural practices, ensuring local building codes and specifications are followed in the construction work. The HSS hub will conduct on - site training for the Technical people and Construction Planning, Supervision and Management training to the family members. The HFH India HSS centre will develop IEC disaster resilient safe construction techniques, House repairs and House maintenance as part of disaster risk mitigation. HFH will develop mobile based technical assistance program for families to obtain information instantly.
As part of 2018 post-floods, Rebuilding Kerala efforts, Habitat India launched a pilot Housing Support Service (HSS) initiative in North Paravur Municipality. HSS was designed here as a Hub and Spoke model with a Core Team of 2 persons functioning out of the Municipal Office (Hub) and also supporting a nearby Panchayat (Spoke). At HFH India, we define Housing Support Services, or HSS, as 'A demand-driven' service or product designed to enable a household to:
a) Reach an adequate housing quality standard in secure tenure, basic services, and shelter durability and space.
b) Make shelter-related improvements in health, safety and livelihood.
HSS has become a significant "scaling" strategy, serving more families than engaging in direct construction. It provided us with an opportunity to reach out to more low income families by collectively engaging with multiple stakeholders such as government institutions, housing service companies (MFIs, Banks and NBFCs), Local NGO partners / CBOs and beneficiaries. HSS creates awareness, provides knowledge and access to resources thereby improving the standard of living of the beneficiary communities. This complements our core competencies in housing and sanitation. HFH India's approach to HSS uses housing value chain analysis to identify gaps in the informal incremental housing process.
Kerala was recently deluged with devastating floods affecting over a million households. As part of Rebuilding Kerala, as also encompassing existing schemes of the Government India (PMAY) and Government of Kerala for affordable housing (LIFE Mission), the Ernakulam District has launched an initiative to provide houses to the low income families across the district.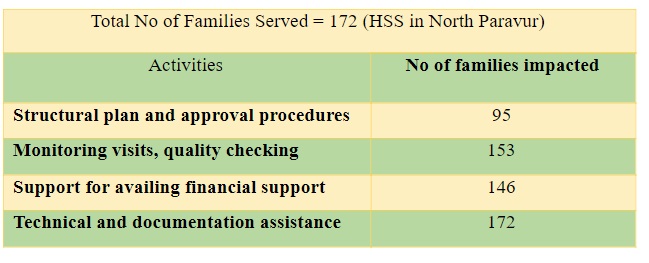 3. ABOUT PARAVUR TALUK
Known as one of the architectural splendours of Kerala, Paravur is a taluk of Ernakulam district in the Indian State of Kerala. At an elevation of 13 meters, with an area of 195.25 Km2 and coordinates at 10.1446° N, 76.2273°E, Paravur Taluk lies in the north western part of the Ernakulam district bordering Thrissur district. The surrounding Taluks are Kochi to the west, Kodungallur to the north, Chalakudy to the north, Aluva to the east, and Kanayannur to the south. Being a part of Kochi urban agglomeration area, the western parts of Taluk are coastal areas with cultivations like prawn and pokkali rice whereas the eastern parts are fertile lands. Kunjithai is one of the most famous fishing boat manufacturing places in Kerala with 30 Boat yards. Until a decade back, Paravur was small countryside hamlet famous for its unique variety of rice known as pokkali, coir, handlooms, agriculture as well as extensive backwater fishing, however now it is changing to a major residential suburb of Cochin. The Paravur Taluk lies in the flat delta region of the Periyar River and cut by several canals, which have resulted in the formation of many islands.
The Taluk consists of 11 Panchayats such as Vadakkekara, Chendamangalam, Chittattukara, Kottuvally, Ezhikkara, Puthenvelikara, Kunnukara, Karumallur, Kadungallur, Alangad, Varapuzha and two municipalities such as Eloor and Paravur. Taluk was an attraction to Kochi, Malabar and Travancore Kingdoms and the capital of Paravur Taluk, North Paravur (formerly known as Paravur) is an emerging suburb of Kochi City which is nearly 22 km from the city centre and 16 km from city, in Ernakulam. The city and its adjoining villages are famous for its legacy in ancient Chera Empire, being the erstwhile capital city of so. The town rose to fame, with first major excavations carried out, that threw light into lost port city of Muziris, hailed as largest port of ancient world.
Heritage sites in North Paravur is an outstanding example of building and archaeological sites and landscape which illustrates a significant stage in the human history of Kerala. The synagogue at Chendamangalam reflects traditional Kerala architecture and has utilized western construction technology and shows us the times and lives of the Jews whereas Paliyam Palace, was once the abode of the Paliath Achans.
The topo-lithosequences of Kerala along with variation in rainfall, temperature and alternate wet and dry conditions particularly from the western coast to high ranges in the east and swift flowing rivers lead to the development of different types of natural vegetation and soil. North Paravur Taluk falls under the category of coastal plains where the general elevation of coast is less than 8.0m.ams. Paravur Taluk of Ernakulam district has a total population of 4, 10,571 as per the Census 2011, out of which 2, 00,612 are males while 2, 09,959 are females. In 2011 there were total 1, 02,472 families residing in Paravur Taluk.
The Average Sex Ratio of Paravur Taluk is 1,047. The population of Children of age 0-6 years in the Taluk is 37,799 which is 9% of the total population. There are 19,283 male children and 18516 female children between the ages 0-6 years. Thus as per the Census 2011 the Child Sex Ratio of the Taluk is 960 .The total literacy rate of Paravur Taluk is 95.88%. The male literacy rate is 88.02% and the female literacy rate is 86.13%.The Taluk consists of 11 Panchayats – Vadakkekara, Chendamangalam, Chittattukara, Kottuvally, Ezhikkara, Puthenvelikara, Kunnukara, Karumallur, Kadungallur, Alangad, Varapuzha and two municipalities – Eloor and Paravur.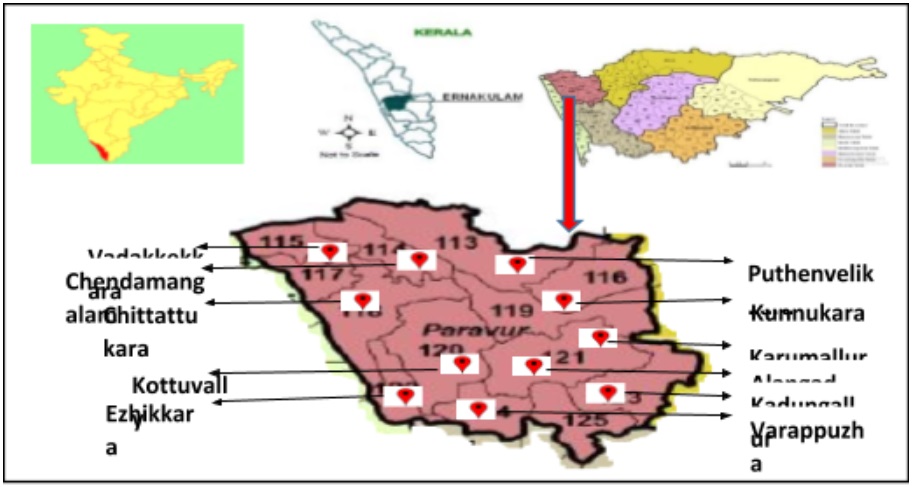 Base map showing Panchayats in Paravur Taluk
Table 2: Basic data of Panchayats (Source: Actions plans of Panchayats as per the survey conducted in 2018-2019)
3.1 DURING KERALA FLOODS 2018
In the unabated rains of August 2018, Paravur got into deep water as Paravur lies in the delta region of Periyar River and when the shutters of the Cheruthoni dam opened. The Taluk is sandwiched between river Periyar in the east and Varapuzha backwaters in the south with numerous canals and streams. Reports have estimated over 6,000 cases of damage to mini, micro and small businesses, and complete destruction of nearly 56 structures. Out of 75,000 households, 60,000 were adversely affected in the floods. Of the seven Gram Panchayats and one municipality under Paravur constituency, five Panchayats were completely affected. The remaining two saw damages over 50% and the municipality, of 30- 40%. Over 1,623 houses were reduced to rubble and 21,481 were partially damaged. North Paravur being the home to a large number of small and medium enterprises, the livelihood of a major part of its population depends on agriculture, tailoring units, handloom and khadi units, fishing, and livestock rearing. With the floods washing away most of these establishments, the constituency was left devoid of sufficient income. The floods highlighted major gaps in infrastructure that contributed to the vulnerability of Paravur Taluk. The existing infrastructure is highly vulnerable to disasters risks and climate change. Further, despite low poverty rates overall, there are pockets of vulnerability that need targeted interventions to strengthen the resilience of population in Paravur.
3.2 SOIL CONDITIONS/STRUCTURE IN PARAVUR
The topo-lithosequence of Kerala along with variation in rainfall, temperature and alternate wet and dry conditions particularly from the western coast to high ranges in the east and swift flowing rivers lead to the development of different types of natural vegetation and soil. The soils of Kerala can be broadly grouped into coastal alluvium, mixed alluvium, acid saline, Kari, laterite, red, hill, black cotton and forest soils.
In terms of geographical and soil conditions, Ernakulam district can be broadly classified into three physiographical units such as 1) Coastal plains, 2) Mid lands and 3) High lands. North Paravur Taluk falls under the category of coastal plains where the general elevation of coast is less than 8.0m.amsl. The major types of soil which is found in most of the regions of North Paravur Taluk are 1) silty clay, 2) silty sand and 3) laterite.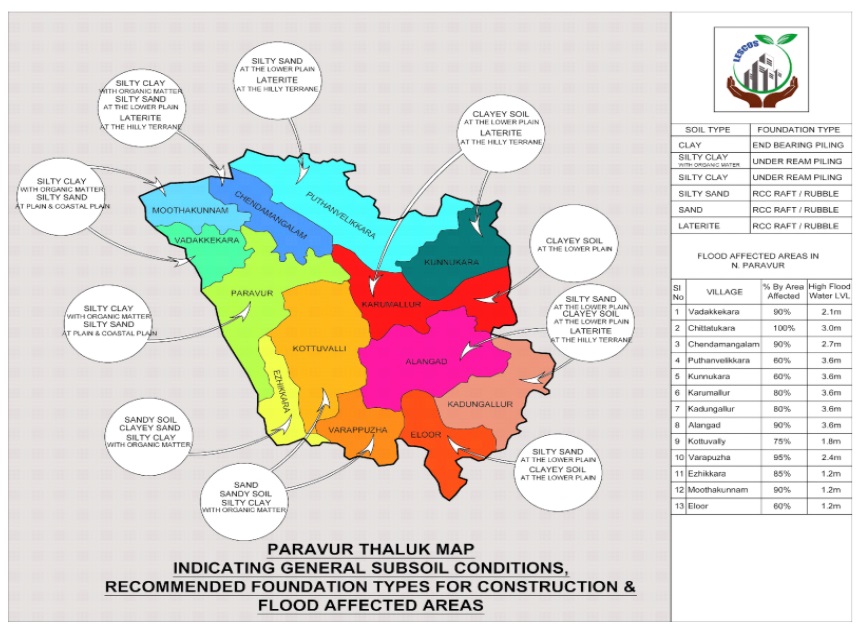 Map of North Paravur Taluk indicating soil conditions in various Panchayats
3.3 DETAILS OF HOMELESS AND LANDLESS FAMILIES IN NORTH PARAVUR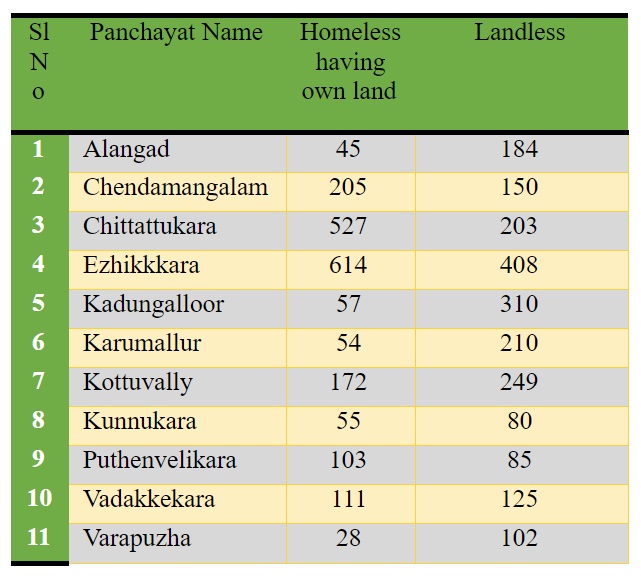 3.4 NO OF HOUSES FULLY AND PARTIALLY DAMAGED DURING THE DISASTER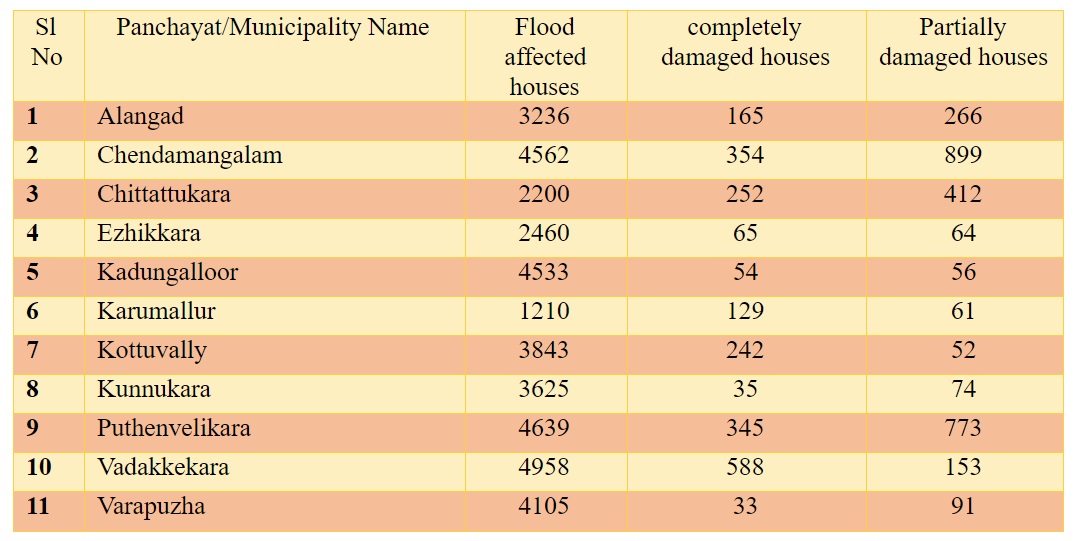 3.5 NO OF HOUSES REBUILT/REPAIRED AND TO BE REPAIRED/RECONSTRUCTED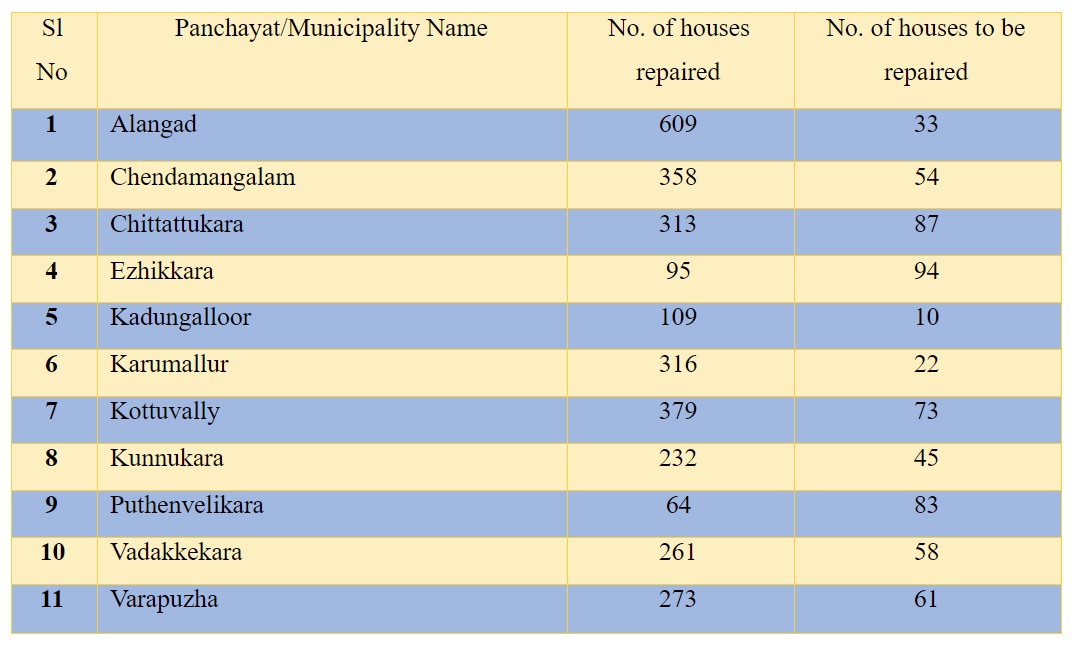 4. HOUSE DESIGNS FOR 510 Sq Ft, 393 Sq Ft, and 496 Sq Ft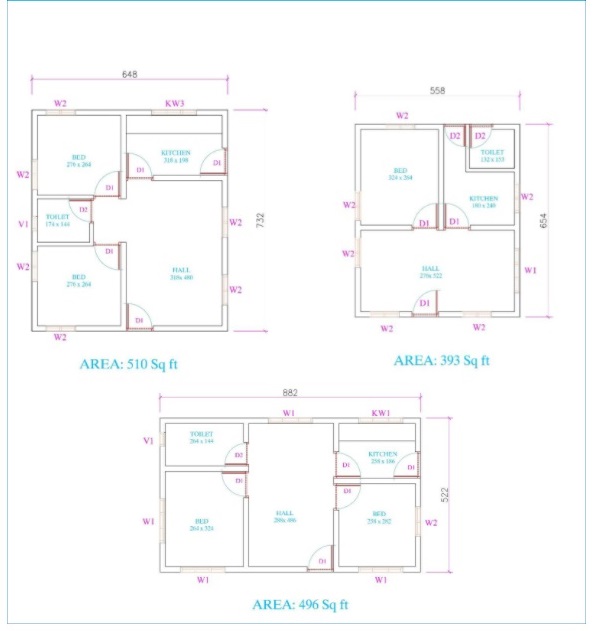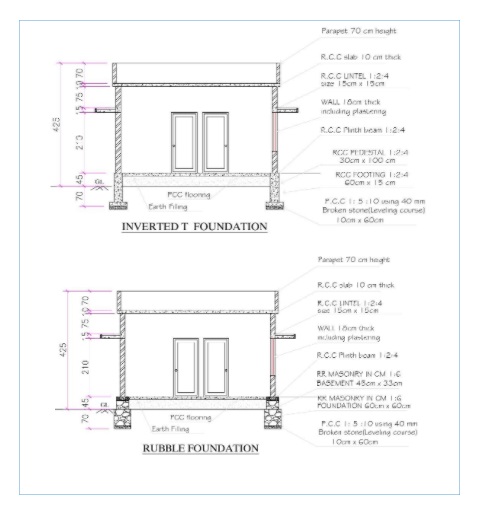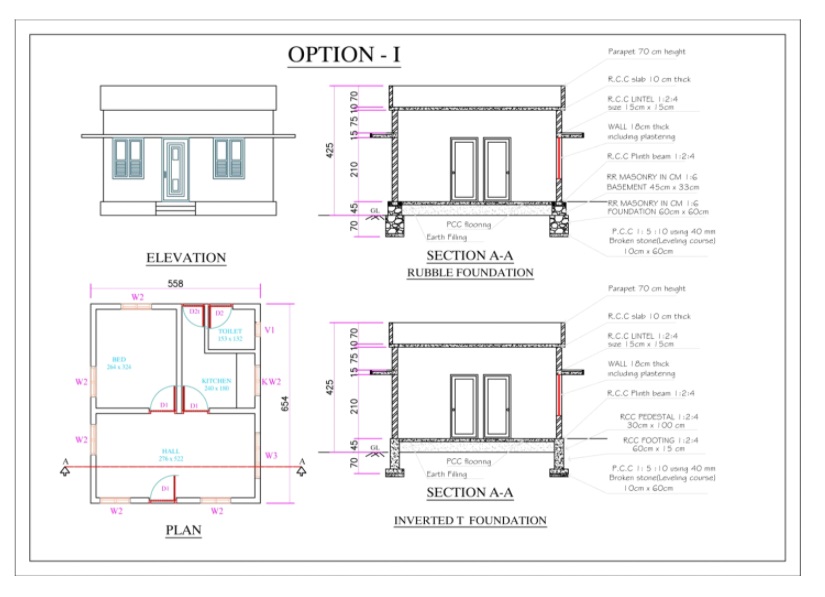 5. DISASTER RESILIENT HOUSING
Natural disasters are sudden and dangerously powerful, making them a serious threat to communities nationwide. Professionals have learned to anticipate some like hurricanes, blizzards, and tornadoes, but others can still strike with no warning. Earthquakes of any magnitude can occur any time of the year with almost no indications. They can affect small remote areas, or destroy large cities. It's high time that we think and act upon all serious questions related to climate change, disaster risks and disaster resilient patterns in the field of construction. Housing and settlements are facing greater challenges toughed by changing climate. A disastrously non engineered housing stock threatens to put prosperity out of reach of thousands of people and roll back decades of hard-earned development. The traditional buildings that have incorporated the accumulated traditional wisdom, technology, experience, skill and craft evolved through the ages generally have demonstrated good performance against most natural hazards. However, some modern-day structures, especially the small residential houses, are non-engineered structures without receiving the benefit of such time-tested technology or the input from engineering or architectural professionals. Non-engineered houses can suffer in hazards, but engineered houses can be resilient against hazards. Structures lacking proper connectivity and strength in its components to withstand different types of forces should be avoided when building in areas prone to disasters.
The picture given above shows the weaknesses of a Non – Engineered house. These flaws could be the reasons for the destruction of a house during a disaster. Identifying the weaknesses of the house in which one resides and adopting disaster resilient features while constructing a new house will help in reducing a disaster to their own asset, the house. The weaknesses of a non-engineered house are given below.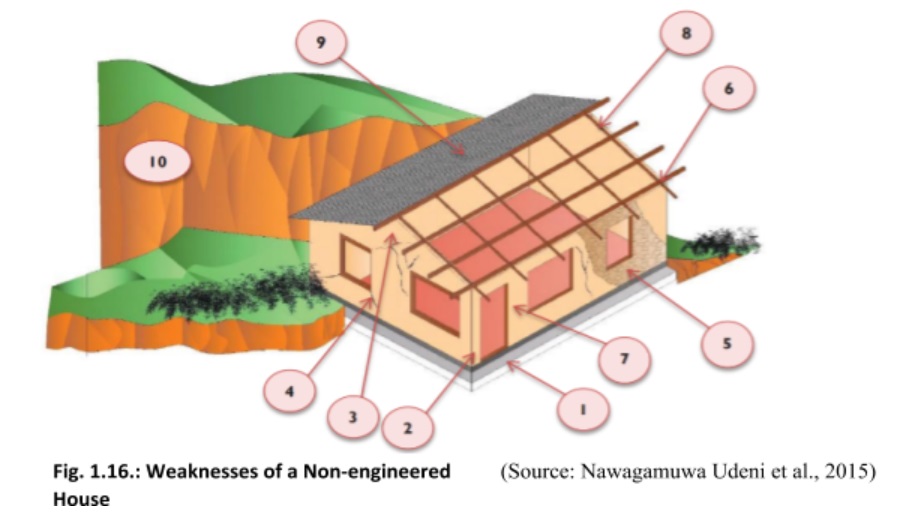 1. Inadequate depth of foundation and floor located below flood level.
2. Inadequate connection between walls or lack of a frame structure to increase the stiffness.
3. Unsupported gable wall and perimeter walls.
4. Diagonal cracking at corners of openings due to not providing sill and lintel beams.
5. Poor quality building material lacking required strength and performance.
6. Inadequate connection of roof framing to structure.
7. Inadequate anchoring of door and window frames to structure.
8. Inadequate anchoring of roof sheets and/or tiles to roof framing.
9. Disturbances to existing ground conditions.
10. Possible damages to neighbouring structures.
5.1 DAMAGE ASSESSMENT CRITERIA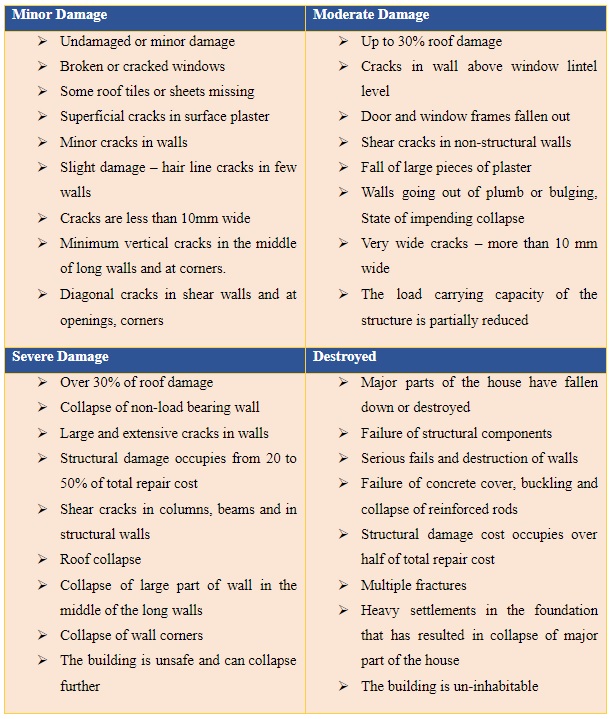 Each category given above represents the percentage of damage caused during a disaster to the building which includes both residential as well as community infrastructure. With the help of such damage assessment criteria, homeowners/anyone can evaluate the destruction caused to their building themselves.
5.2 HOUSE DESIGN FOLLOWED BY HFHI IN KERALA
During the unprecedented flood that happened in Kerala during August 2018, the Disaster Response team of Habitat for Humanity India responded with mainly three interventions which is collectively known as 3R's and stands for Relief, Rehabilitation and Reconstruction. Reconstruction of houses in North Paravur proved to be a challenge as the house construction in the area followed conventional method irrespective of the soil structure. Some of the major damages identified in the houses were settlement of the foundation and severe cracks in brick walls and floor. The possible reasons behind the above mentioned damages could be design of foundation irrespective of the soil structure and water table, constructing load bearing structures instead framed structures etc.
Habitat India realized the importance of designing the structure of a house which is resilient to a disaster. Rather than creating modifications in the conventional house structure which is a load bearing structure, a framed structure design was developed taking into account the possible disasters that could affect the area in the future. The purpose of creating such a house design is to ensure strength and stability against destruction from flood and other natural disasters.
The design adopted is different from the conventional methods of construction where load bearing structure with DRY rubble masonry as foundation and basement is adopted for every type of soil. This type of foundation is more prone to settlement when constructed in loose soil. In a load bearing structure, the load from the slab is transferred to the ground through brick walls. There are possibilities where a whole house could collapse when the brick walls are damaged.
The HFH house design consists of framed structure where concrete foundations and column – beam structure is provided so that it can take high strength of load of the building. The structural frame consisting of column and beam alone can bear the total load of the building and transfer to the foundation. This design can resist high lateral forces and is more flexible when compared to a load bearing structure. Such Disaster resilient design can be adopted in unreliable soil and also withstand moderate vibrations which ensures safety.
Habitat India has designed three house plans, 500, 430, and, 420 sqft and all the three plans follow the same framed structure design with RCC footings, RCC plinth, RCC column, Brick walls, RCC lintel, RCC support beam and RCC flat roof. A total number of 12 columns are provided in a 500 sqft house plan whereas 9 columns are provided in 430 and 420 sqft plans. The house is designed as per Indian standards, CPWD as well as National Building Codes and the design is verified by Indian Architects Association. For a normal soil type and water table level, the footings goes to a depth of 150cm in to the ground to ensure strength of the foundation and consists of a RCC footing and pedestal column till the ground surface. The depth and the size of the foundation varies according to the type of soil and level of water table in the area. The specification given below for RCC footing might change as it should be designed according to the soil condition of the site.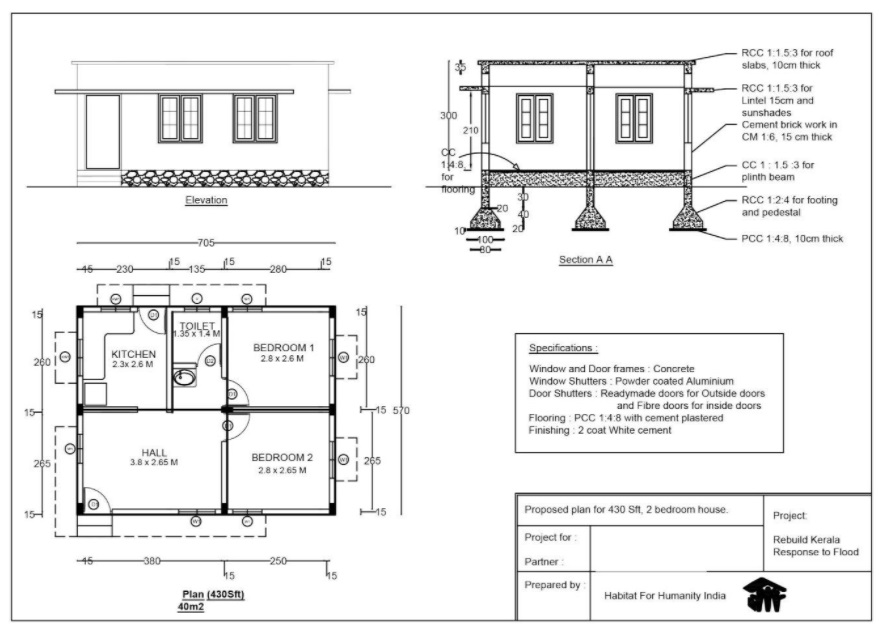 The RCC specifications of a 430 sqft house design are given below:
PCC of 1:4:8 grade with 40mm metal should be provided below the footing with 10cm thickness. The length and width of the PCC should be 20 cm more than the length and width of the footing. E.g. If the size of the footing is 100 cm x 100 cm, the size of the PCC should be 120 cm x 120 cm
RCC Footing 1:2:4 grade, 80 cm x 80 cm x 40 cm, in 1:2:4 grade with 10 mm steel 15cm c/c in both ways. (Depth of the footing can be reduced to 20 cm for hard soil)
Pedestal column up to Plinth beam level, 1:2:4, 4 Nos 12 mm steel and 8mm dia stirrup @ 18 cm C/C, 30 cm X 30 cm size up to a depth of 40 cm and 30 cm x 15 cm size up to 60 cm height above it. (Depth of the pedestal column can be reduced to 30 cm for hard soil)
Plinth Beam 30 cm width and 45 cm height above ground level in 1:1.5:3, 4 Nos of 12mm Steel and 8mm dia steel stirrup with 18 cm c/c, with 2 layers of 15cm thick concrete block to increase the height of the plinth
Superstructure with Cement brick work of solid block 12" X 8" X 6", 15 cm thickness up to support beam
RCC column with 30 cm x 15 cm size, 1:1.5:3 grade concrete with 4 nos of 12 mm steel with 8 mm dia stirrups @ 18 cm c/c.
RCC lintel of size 15 cm x 15 cm size, 1:1.5:3 grade concrete with 4 nos of 10 mm steel with 6 mm dia stirrups @ 18 cm c/c
RCC support beam of size 15 cm x 35 cm in 1:1.5:3 grade concrete with 4 nos of 12 mm dia steel and 8mm steel as rings @ 18 cm c/c
RCC roof of 10 cm thickness in 1:2:4 grade concrete with 10 mm steel as main bar and 8mm steel as distributer @ 15 cm c/c
6. HOUSE CONSTRUCTION SCHEMES
6.1 LIFE (Livelihood Inclusion and Financial Empowerment)
Mission LIFE (Livelihood Inclusion and Financial Empowerment) envisages a comprehensive housing scheme for all the landless and homeless in the State. Housing, being the very basic requirement that holds the key to accelerate social development in many ways, the Government of Kerala launched the LIFE.
The target of the mission is to provide safe housing to nearly 4.30 lakhs of homeless in the State within a period of 5 years. Among the homeless, about 1.60 landless families have been historically excluded from various housing schemes of the past. The programme is named as LIFE (Livelihood Inclusion and Financial Empowerment) Mission and the homeless will be provided with modern housing complexes with provision for pursuing their livelihoods, converging social services including Primary Health Care, Geriatric Supports, Skill Development and provision for financial services inclusion. The mission will also help those who received assistance from other schemes but could not complete the construction and move into a safe house.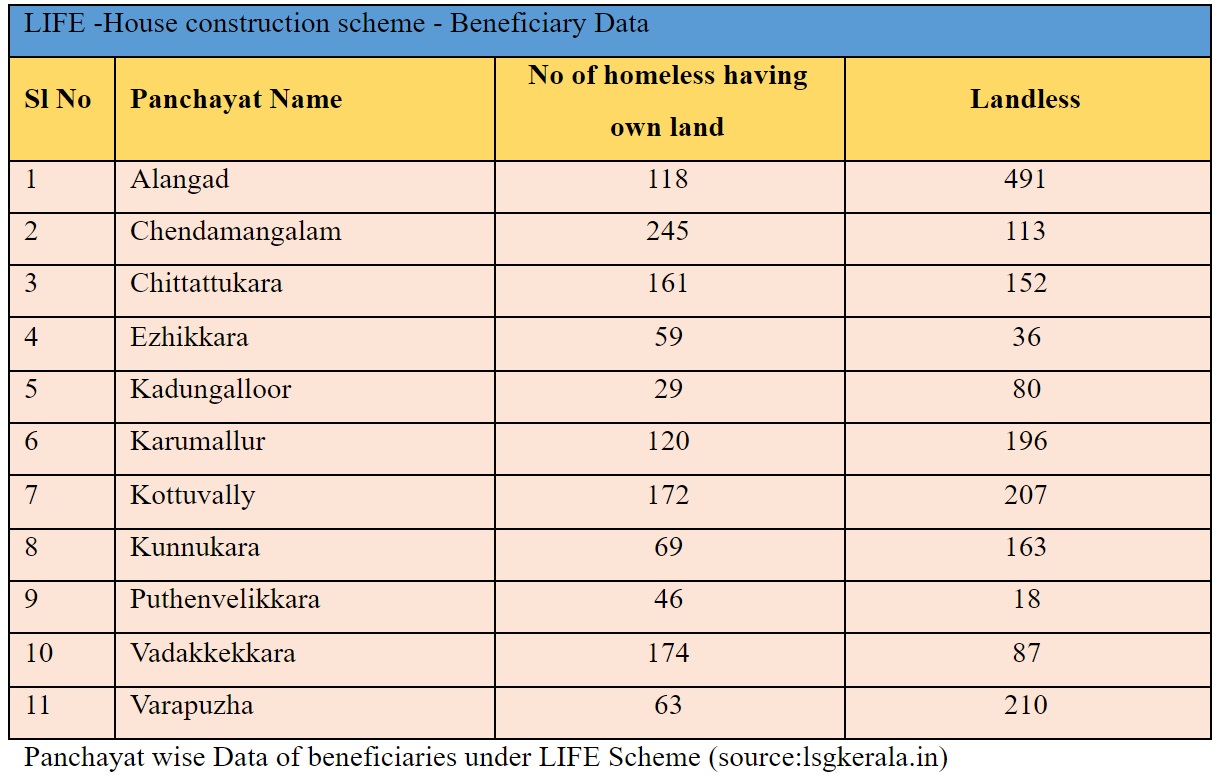 Beneficiaries
The LIFE Mission will benefit families with incomplete/dilapidated houses, families having semi-legal/semi-permanent houses in government land or in coastal regions families and families who are landless and houseless.
The priority would be given to the families under the following categories also:
Destitute people
Differently-abled
Transgender
Mentally challenged/paralyzed/blind
Transgender
Individuals suffering from fatal diseases
Individuals who are unable to engage in livelihood activities due to accident or prolonged diseases.
Unmarried mothers
Widows
Selection Criteria
The social and economic caste survey will be conducted by the Central government will be considered to identify the beneficiary.
The field level officers will address the identified beneficiaries for verification and submit the appropriate documents and details to local self-government institutions.
The list of shortlisted beneficiaries will be published at District level or local Panchayat office.
Documents Required
The following are the documents to be produced at the time of applying for the scheme:
Aadhaar Card
Caste certificate
Ration Card
Income Certificate
Voter Identity card
Assistance from Government
Under this project, the Kerala government will provide financial assistance to the houseless families with the area/land for construction of new houses at the rate of Rs.3.5 lakhs for the people belonging to the general category and Rs.4 lakhs to Scheduled Caste, plantation workers and fishermen. The beneficiaries belonging to the Scheduled Tribe category will be assisted with the actual cost for the completion of houses.
Also, the families owing dilapidated or incomplete houses will be granted with financial assistance for the construction of those houses, based upon the valuation done through Third Party Technical Agencies (TPTA).
Application Procedure for the Scheme
To register for Kerala Life Mission scheme, follow the steps mentioned below:
Step 1: Visit Official Website
The applicant can directly approach the official portal of Kerala Life Mission Scheme.
Step 2: Login into Portal
Firstly, the applicant needs to complete the initial login process. Click on the "Login" button which is visible on the home screen of the portal.
Step 3: Provide Login Details
On the next page, enter the user name and password and click on "log in" button to access the portal.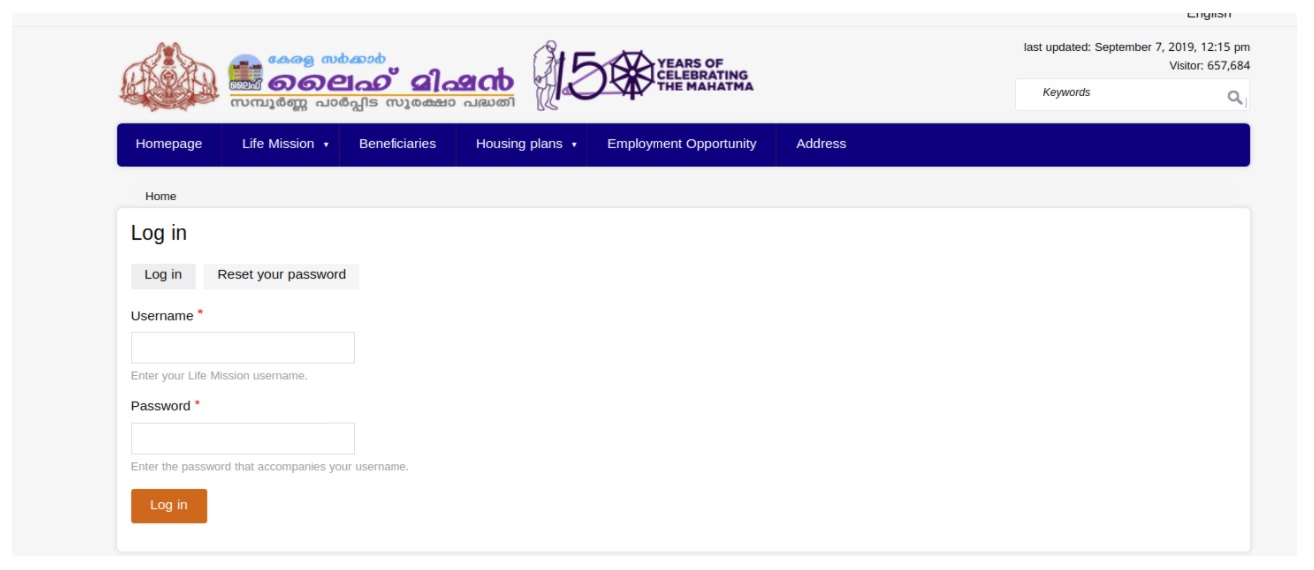 Step 4: Registration Form
Once the initial registration is completed, the applicant will have to register for the respective scheme.
Step 5: Fill the Details
Fill the application form with the necessary details and save application along with the documents required.
Step 6: Verification of Form
After submitting the form, the State Authority will verify and approve the beneficiaries to avail the benefits under the LIFE Mission scheme.