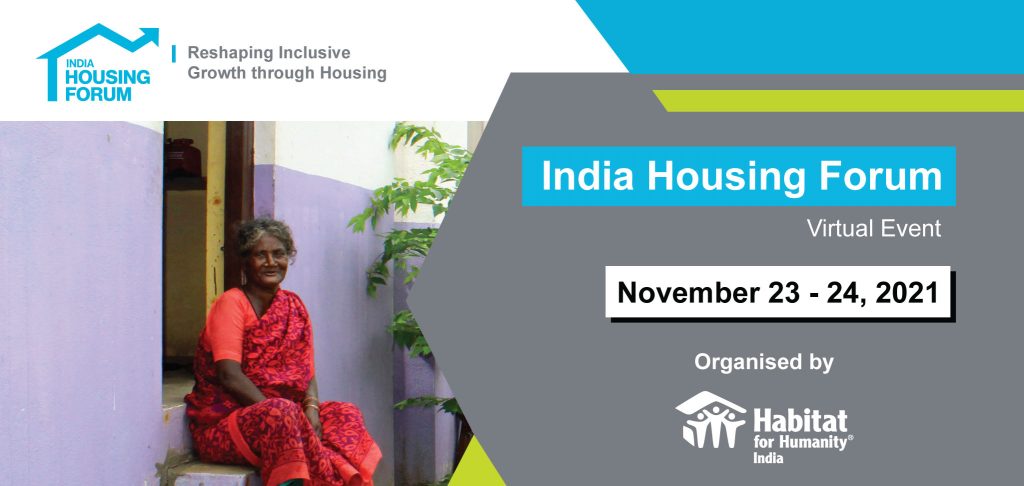 For the last 6 years, the India Housing Forum has gathered major stakeholders engaged in seeking solutions to affordable housing issues under one roof, to promote decent housing as a driver of economic growth. Since the inaugural conference in 2015, the forum has witnessed delegates from the Government, private and development sector who have not only shared common ground, but also presented diverse views through insightful plenaries and engaging tracks.
The objective of the forum is to build collaboration to impact cost effective housing sector in India and contribute to the Government of India's vision of 'Housing for All'. It also aims to recognize and act on the importance of housing as a driver of inclusion, resilience and sustainability in human settlements, and promote leaders and sector players in innovative and high impact housing initiatives through the sharing of best practices.
On 25th and 26th March 2021, India Housing Forum – The Andhra Pradesh Chapter was held at Visakhapatnam in Andhra Pradesh. This regional event set the stage for India Housing Forum 8 and brought about collaboration of active players in the housing eco-system to tackle the issue of substandard housing.
The India Housing Forum to be held in November 2021, is a lead-in event of the eighth Asia-Pacific Housing Forum. Held in conjunction with the Asia-Pacific Housing Forum, it is part of Habitat for Humanity Global Housing Forum hosted as a series of Regional Forums starting in Latin America and the Caribbean, Europe and Eastern Europe, Africa and the Middle East and the Asia Pacific region.
FORUM OBJECTIVES
Inspire a new vision for a more inclusive, healthy, and resilient cities and human settlements.
Strengthen anchoring of commitments to United Nations Sustainable Development Goals (UN – SDGs) and climate change into national and municipal priorities.
Build collaboration between organizations with the capacity to impact and scale up the low-cost, affordable housing sector in India.
Recognize and act on the importance of housing as a driver of inclusive economic growth, resilience and sustainability in human settlements.
Promote, celebrate and reward innovative and high impact affordable housing initiatives in the country
REGISTER BELOW
THEME
The theme for the India Housing Forum 8 is 'Reshaping Inclusive Growth Through Housing', bringing to the forefront the urgent need for solutions in building truly sustainable and affordable housing. Even before the COVID-19 pandemic, barriers, gaps and exclusions across political, social, economic and environmental systems severely limited opportunities for many to live in adequate housing.
As countries face the repercussions of the pandemic, the housing sector can be a key element for economic, social, and environmental recovery. Likewise, assuring housing availability for all can lighten the economic and social challenges resulting from the pandemic. New perspectives and innovations for housing are needed. The theme of 'Reshaping Inclusive Growth Through Housing' will assess and address the underlying housing issues, and propose recommendations to support more inclusive housing outcomes.
TRACKS
The India Housing Forum 8 will delve into the following tracks:
Track 1: Building Resilient Cities and Communities
Building inclusive, healthy, resilient, and sustainable cities requires intensive and coordinated policy responses and investment choices at both national and local levels in partnership with communities. This track focuses on how city leaders can gain new insights for transformation, and shape the recovery efforts by working across divisions and in partnership with local community and business leaders.
Track 2: Innovative Housing Solutions and Technologies
Demand for housing continues to outpace supply as the world's population expands and materials costs rise making it more challenging to build affordable homes. Current housing development plans have proved inadequate. New innovations can be instrumental in responding to the lack of quality homes. This track will explore ways in which the growing need for affordable housing solutions can be addressed using innovative housing policies, solutions and technologies.
Track 3: Advancing Sustainability in the Housing Sector
Rapid economic growth in the country has come at the cost of increased use of natural resources, growing greenhouse gas emissions and waste production. This track will examine the multiple functions of housing in India, as both a physical and socio-cultural system, as well as ways in which the environmental, social, cultural, and economic dimensions of housing sustainability can be harmonized to ensure sustainable and equitable cities.
Track 4: Financing Affordable Housing
Financing affordable housing is still a major issue in India as we struggle to house the rapidly growing population. Adequate financing structures and funding are therefore critical to addressing the affordable housing challenge. This track will examine financing instruments of different actors in both public and private sectors for funding affordable housing.
For details and partnerships, contact
Justin Jebakumar,
Director - Government Relations,
Habitat for Humanity India
[email protected] | +91 9873470167