Helping Odisha Stand Strong
Cyclone Fani made landfall in Odisha on Friday 3rd May, lashing the coastal region at more than 120 miles per hour. The cyclone has caused immense damage to infrastructure, power, water supply, road and to houses, affecting 1.1 million people.
Habitat India deputed its Rapid Response Team to conduct an assessment and began its disaster response program.
We have distributed 1042 Humanitarian Aid Kits, Conditional Cash Transfers of INR 7150 (approx. $100) per family to 167 affected families. 15,000 affected families were provided with Non-Food Items (NFI) and tarpaulin sheets distributed to 2500 of the most affected families in Puri district and Bhubaneswar slums to assist with temporary shelter.
Rebuilding Kodagu
In partnership with the Rotary Club of India and flood-affected families in Kodagu, Habitat India built 25 homes in Igodlu, Karnataka. Prominent dignitaries like Rtn. Kalyan Bannerjee, Past Rotary International President, Rtn. Dr. K Ravi Appaji, Past District Governor and Project Chairman Rotary International along with Rajan Samuel, Managing Director, Habitat for Humanity India handed over the keys to the families on 18th June 2019.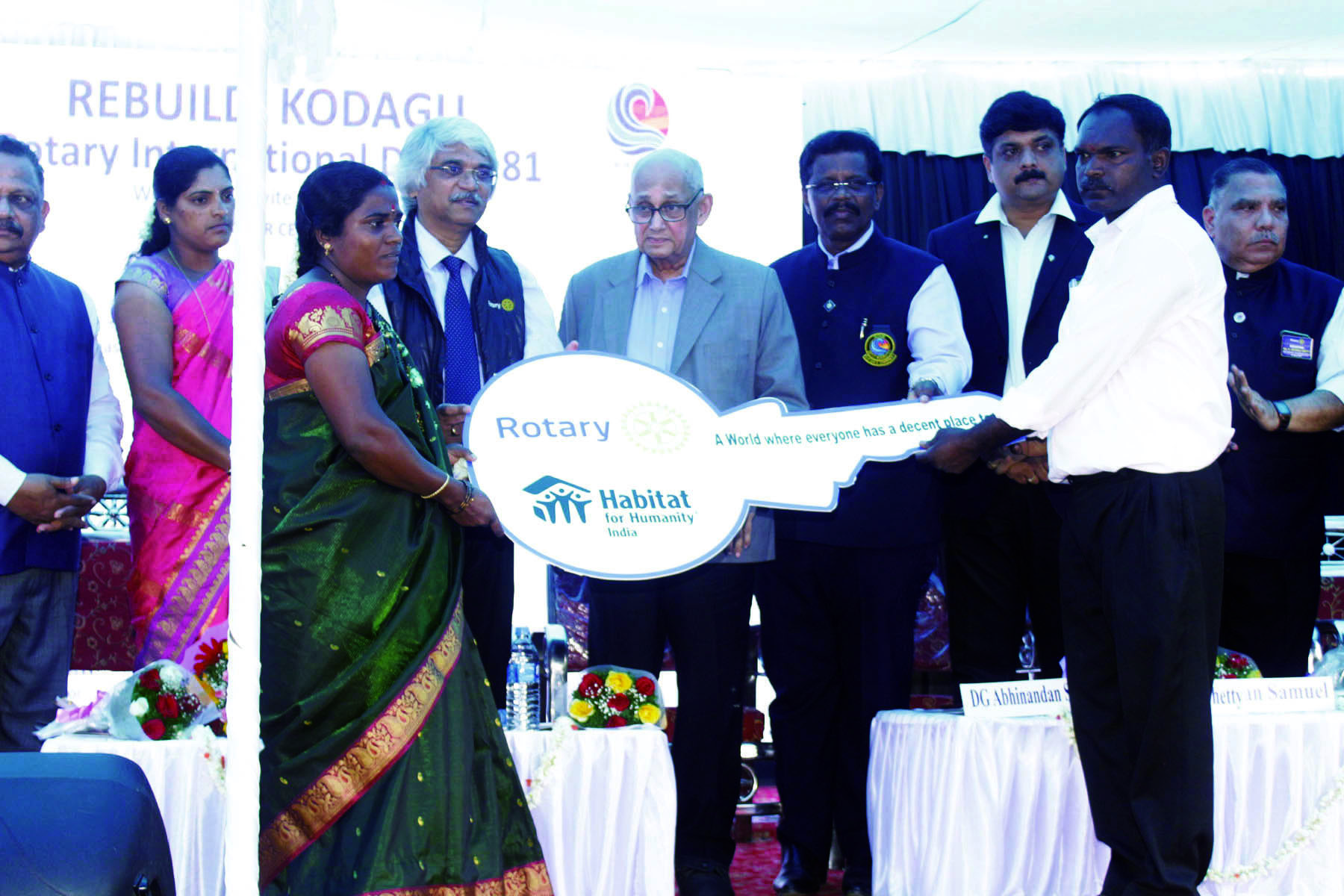 Handover of 25 homes to flood-affected families in Igodlu, Karnataka to Pushpa, Habitat Homeowner with Rtn. Dr. K. Ravi Appaji, Past District Governor and Project Chairman, Rtn. Kalyan Bannerjee, Past Rotary International President, Rtn. P. Rohinath, Past District Governor, Rtn. Abhinandan Shetty, District Governor, Babu U, Habitat Homeowner and Rtn. Krishna Shetty, Past District Governor (left to right)