44-year-old Anmol Kochar and 40-year-old Bharti are visually impaired hawkers who live in Vangani, (Thane district) Maharashtra. Together, they have three daughters Siddhi (16), Samridhi (9) and Gauri (6). The eldest, Siddhi is visually impaired too. They have enrolled her at The Poona School and Home for Blind Girls.
Because of their precarious physical and financial condition, Anmol and Bharti were forced to beg. Gradually they started selling trinkets and other utilities, as one of the many hawkers on the Mumbai local trains. They brought home an average of INR 10,000 per month to eke out a living. Despite their circumstances, their combined determination bore fruit as they were able to buy a 300 sq. ft. plot of land in Vangani after 10 years of saving. However, their dream of building a home did not realise since the children's upbringing and rent took a hit on their finance. With the help of well-wishers in the community, they were finally able to build a makeshift home using GI sheets. But it could only go so far. Sanitation was still a problem since they still had no money to build a toilet. Furthermore, the house was inhabitable during the long monsoon season in Maharashtra due to leakage and waterlogging. This meant that they would have to move out of their house to a rented place, spending about INR 3000 per month from July to September every year, to return only during the dry season where they would not have to risk their children's wellbeing and safety.
In November 2020, during the height of the pandemic, Habitat India partnered with SELCO Foundation to build energy-efficient homes with 33 marginalised families in Maharashtra. 8 families from Vangani (Thane district) have at least one visually impaired person while 25 families belong to the tribal community in Karjat (Raigad district). Anmol and Bharti were one of the families who received support through the project. They celebrated Diwali (Festival of lights) of 2021 in their new home.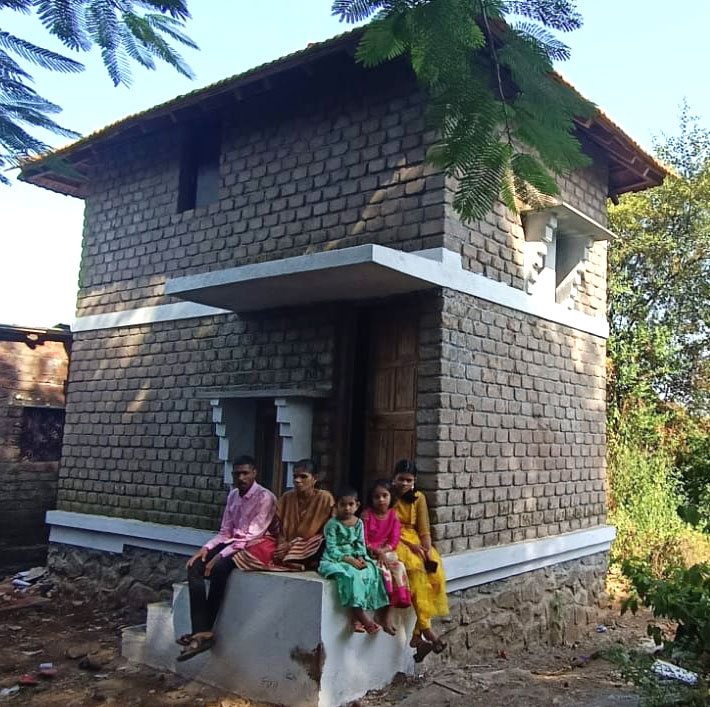 All the homes are energy efficient and have been built using environment-friendly construction material thereby minimising the carbon footprint of Habitat's development interventions. The home design incorporates optimal use of sunlight within the homes, adequate ventilation and improved insulation that protects the families from harsh weather conditions. Further, solar energy is integrated into the housing units to help reduce electricity consumption.
"We have struggled all our lives. Struggling to build a decent home amidst the pandemic even after saving enough to buy this little plot was an agony for us.
The new home improved our well-being and we have access to a toilet in our own home. A new dawn has broken for us, and we are thankful to Habitat India and SELCO Foundation for their love and support," says Bharti.