Dr. Keshab Panda, Managing Director and Chief Executive Officer – LTTS speaks with us about Project Neelachala and supporting the people of Odisha
Cyclone Fani destroyed homes and livelihoods for a large number of people in Odisha.In a tripartite partnership with L&T Technology Services (LTTS) and the District Collector's Office of Puri (Government of Odisha), Habitat India's Project Neelachala was launched to serve 150 vulnerable families with new disaster resilient houses in Puri district. We also aim to educate and promote the Community Based Disaster Risk Management practices for disaster preparedness.
LTTS supports Project Neelachala's vision to serve the people of Odisha.
What are the values that you personally feel are most important for life?
Being a technologist, I believe having a scientific temperament is important, as much as the constant pursuit of knowledge. Curiosity and innovation are also a few traits that the young generation should inculcate. But one of the most important and overlooked value that one should possess is of collaboration and teamwork – these qualities ultimately can lead one towards success.
Could you share which issues you feel particularly passionate about?
Lack of proper shelter is a massive issue in India, crippling our society even as India's influence across the world is growing. It is important that all Indians get adequate shelter, not just the middle, upper-middle class or the rich. LTTS has been doing its bit in helping those who have been displaced due to various natural calamities such as the people of Odisha, after Cyclone Fani hit.
What made you, and LTTS as an organisation, notice the disaster affected families in Odisha after Cyclone Fani?
Firstly, I am from Odisha. Secondly, lack of proper shelter is a raging issue in a developing country like India – an issue that is close to my heart. Finally, and most importantly, Cyclone Fani had ravaged parts of Odisha and displaced lakhs of people. Hence, launching Project Neelachala, a program for providing disaster-resilient shelter homes to the families affected by the cyclone, was the natural next step for us. I am happy to share that we have been able to touch and improve many lives through our CSR initiative.
What do you feel having a safe and decent disaster-resilient home can achieve for a family in need?
It is very important to understand that it is not enough for a family to be able to only survive. Every family deserves a meaningful life and hence it is prudent to have a disaster-resilient home and good, strong shelter. By providing India's masses with adequate shelter, we can empower them to have a life that is more enriching and purposeful.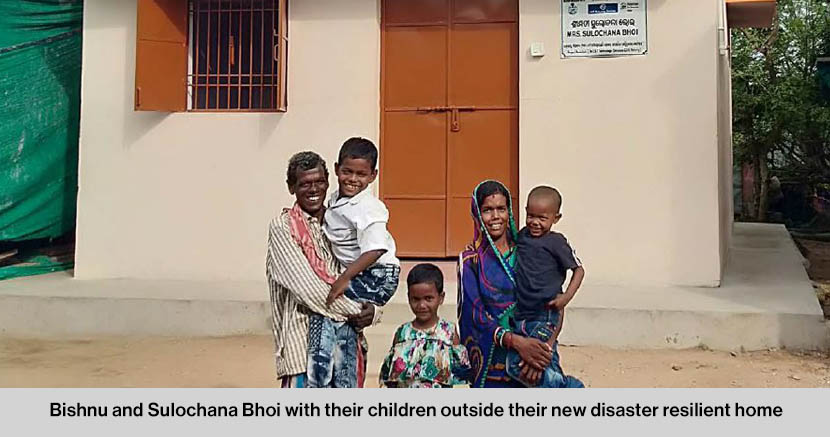 What are the values that LTTS feels are most important, that contributed to the organisation supporting Habitat India?
Being the subsidiary of L&T Group, LTTS has imbibed the responsibility of giving 'back to the society' as a serious business by delving deep into issues that hold the development of people, community and the nation. Collaborating with an NGO like Habitat India has helped us in achieving our goal of building India's infrastructure.
What are your thoughts about organisations like LTTS, supporting NGOs and non-profits across the country?
For our country to achieve self-sustaining opportunities, a Corporate-NGO partnership is inevitable. The CSR activities of LTTS are identified, evaluated and undertaken by partnering with credible NGOs and by involving the community at large, in the following areas: Health, Education & Skill Development, Sports, Water Conservation, Environment and Corporate Volunteering Program.
Do you have a message for other individuals like you, about how they could help rebuild the country?
I believe it is important to identify oneself with the cause, understanding the cause and then having a concrete plan-of-action to ensure that the idea towards the cause has been implemented. Creating a sustainable roadmap to achieving your goals is also important – it is not just about fulfilling a corporate duty of allotting budget for a segment in the company, but a great responsibility, involving proper ideation, thought and meticulous planning. As we work towards a higher purpose of creating a more sustainable world, it's a constant endeavour to enhance the quality of life for communities around us.